Custom Built-ins
Custom built-ins can add function and style to any room. Whether it be a living room entertainment center, an office or den, or a bedroom the possibilities truly are endless.
It's likely that a television is the epicenter of your entertainment space at home. Allow us to create a centerpiece for your home's leisure activities with a custom entertainment center. 
With our endless array of designs, we can offer a freestanding system or built-in cabinets that can house all your entertainment center components, including flat-screen televisions, gaming, and audio equipment. Owning a customized entertainment center keeps electronics neat and organized while hiding unsightly cords. They also reduce clutter by providing a designated area to store remotes and other items.
Wine bars and Hidden Bars
Looking for a way to incorporate some entertainment zones into your home? Regardless of your space availability, there's always an opportunity to add in some style with a wet or dry bar.  These bars can be limited to an appliance garage on your countertop or go big by adding integrated appliances like wine taps or kegerators.  Your bar area should reflect the style of your home but in an area that's typically designated the fun zone, it's ok to push those design boundaries!
Organizational Storage
Power charging stations
The tech-savvy world we're living in makes separation from our precious gadgets painful and often intolerable.  Practicality demands that we have our gadgets always ready and charged at all times, which can often create an eyesore in your beautiful new kitchen.  To keep those countertops clear of clutter, consider adding a kitchen charging station into your new kitchen. Charging drawers or tip-out drawers provide ample space for multiple gadgets to charge while still remaining out of sight and out of mind.  If you're concerned about losing a drawer to electronics, we can also integrate wi-fi right into your countertops… imagine that!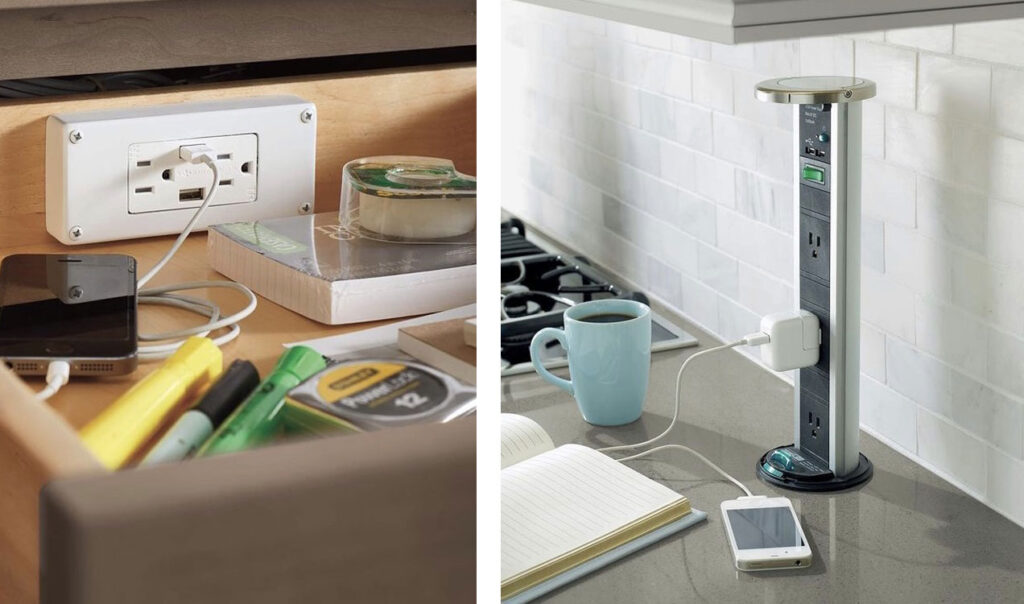 Butler Pantry
There is no such thing as one size fits all when it comes to your pantry!  There are many different approaches to creating the perfect pantry design to fit your needs.  Perhaps you want your pantry to be a separate room, or you may want it to be a walk-in where you can add doors and make it look like a built-in cabinet.  Regardless of the size of your pantry, we want to make sure it's designed around your needs is maximizing your storage space.  An organized pantry is one of the most crucial ingredients for any successful kitchen, so start designing your dream pantry today.