Countertops for White Cabinetry
White cabinetry has been one of the most popular cabinet choices for years and the reason for that is simple – white is versatile and fits among any style of design.
Another perk to using white cabinetry in the kitchen is the endless options for countertops, both in material and color.   Know what else comes along occasionally with endless options?  Feeling overwhelmed by said endless options.  To combat that feeling, our Dream Team is here to help you narrow down your choices by sharing three different looks to consider for your white cabinetry.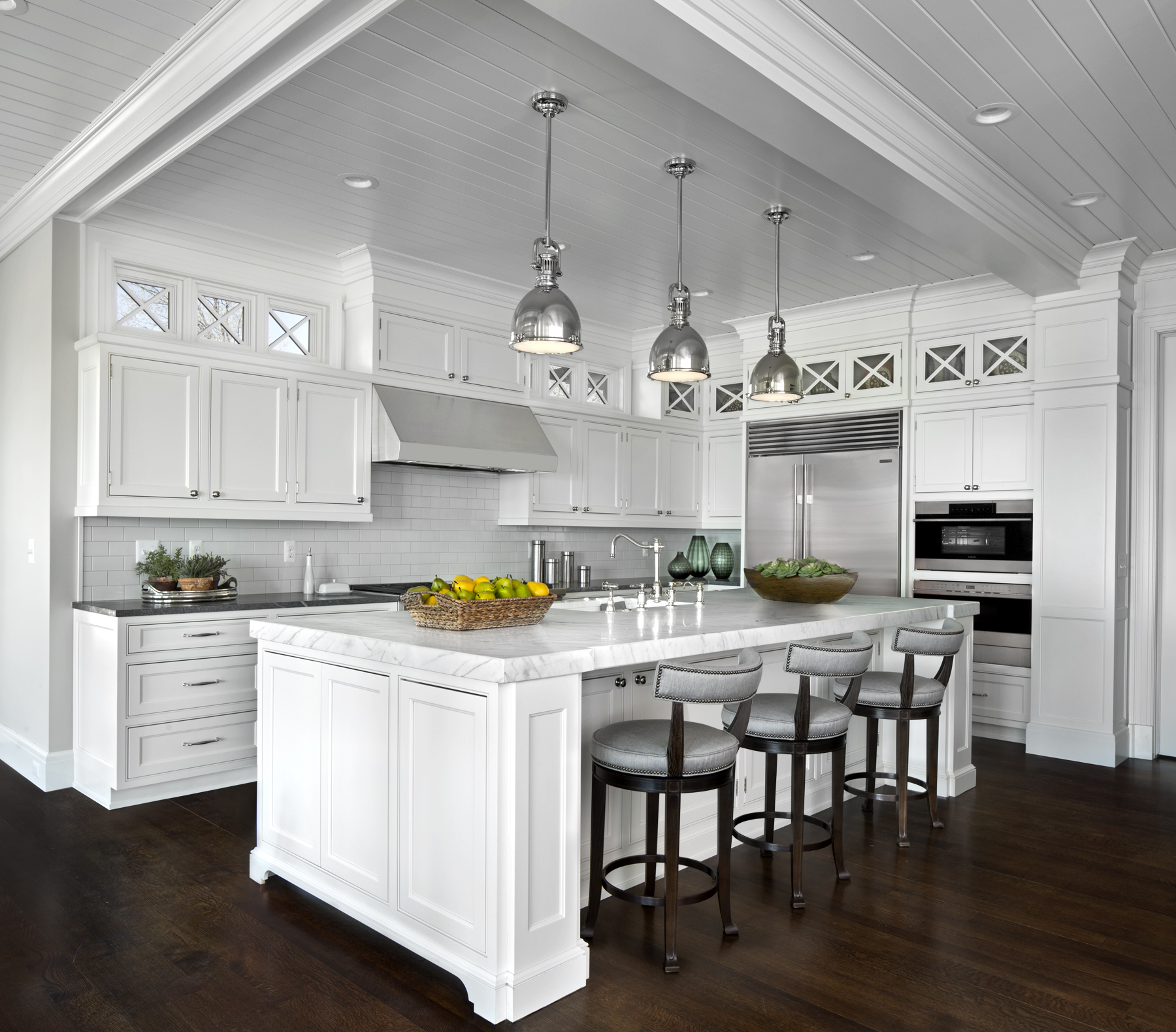 1.  A Low Contrast Look
The look of a low contrast kitchen is simple and clean. A low contrast kitchen showcases a white or light colored countertop with minimal detail.  To complete this look, a backsplash materials should also be white or off-white and offer the most subtle of shift from the countertop and cabinetry colors.  The goal of the low contrast kitchen is to avoid a noticeable difference between the color and depth of the cabinets and the countertops and backsplash.
If you're considering this low contrast look consider adding a few of the following design elements:
–     Light toned countertop matching close in color to the cabinetry
–     A fun tile backsplash (think, arabesque or geometric pattern) with a darker grout to highlight the pattern
–     Cabinet hardware and fixtures that shine (we're loving brass or polished chrome)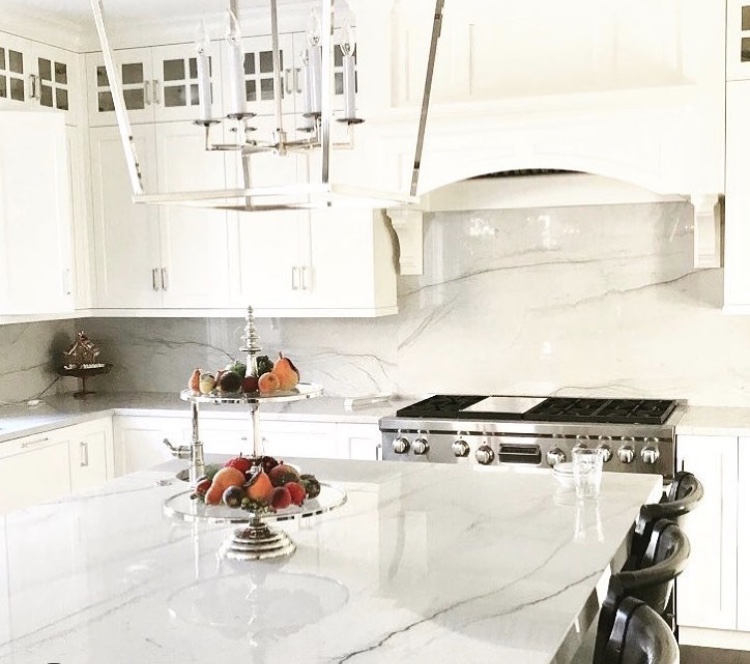 The above kitchen is super low contrast.  Note here that there's a very minimal shift between the soft gray undertones of the quartz countertop and backsplash and the warm white cabinetry.  
2.   A Medium Contrast Look
 The look of the medium contrast kitchen is where the majority of the  kitchens we design fall.  The medium contrast kitchen keeps the cabinety simple in white or off white but also brings in 1 to 2 products to offer a contrast to said cabinetry. In the medium contrast kitchen, we're seeing a lot of gray hued countertops with white backsplashes, offering a slight but noticeable visual pop.
If you're considering a medium contrast look, consider adding a few of the following design elements:
–     More medium toned countertops with more noticeable detail and/or veining
–     Backsplash color that either matches the cabinetry or countertops, often with texture
–     Black or matte hardware looks great in the medium contrast kitchen
The medium contrast kitchen above showscases how you can create a striking look between countertop and cabinetry without having to go too dark and bold. The dark gray soapstone countertop juxtaposed against the gray and white marble backsplash offers depteh and visual interest to the space while complementing the beautiful cabinetry.  
3.   A High Contrast Look
The high contrast white kitchen provides the most pop of the three different color palettes.  In this space there are usually two products that blend together with one pop of color, typically in the countertop.  We see a lot of these spaces with white cabinetry, white backsplashes and a dark jolt of countertop in a deep gray or black color.
If you're considering a high contrast white kitchen we do recommend incorporating some ways to tone down the look by:
–     Keeping materials simple.  This includes both countertops (minimal veining in quartz or a simple granite) and backsplashes
–     Avoiding black hardware and fixtures as it can create too much contrast next to the white cabinetry
–     Opting for more matte and neutral finishes rather than shiny and reflective finishes
 The white cabinets in this high contrast kitchen are in striking contrast to the deep gray granite countertops and metallic gray subway tile backsplash.  
We get it, there are a LOT of countertop colors to choose from.  Luckily for you, your choice of white cabinetry means you really can't go wong with what you select.  If you'd like more help in finding the color that's right for your kitchen, our Dream Team is standing by.
< Back to Posts