The end of the year brings time for reflection and at E.W. Kitchens, that means reflecting back on some of the top dream spaces that we delivered this year.
For many of us, 2021 marks another year where we spent more time at home than ever before.  It was our pleasure to bring so many incredible dream spaces to reality (if anyone is counting, over 800 spaces, to be exact!).  From kitchens, to home offices, to wetbars and mudrooms, below are some of our top projects completed over 2021.  Enjoy the inspiration!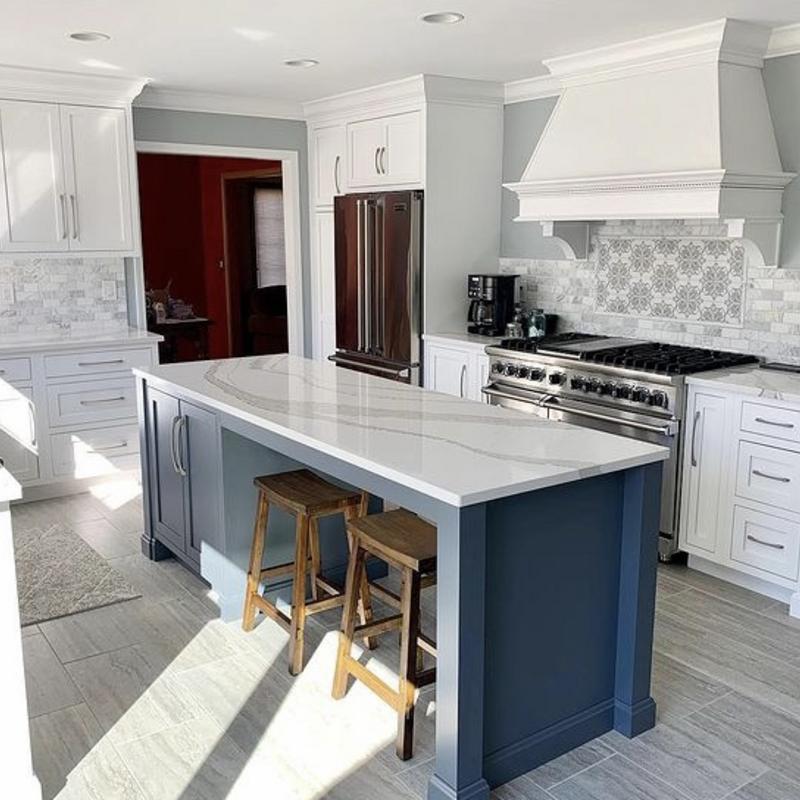 Of our many projects completed over the last year, kitchens were certainly the most popular.  With it being the heart of the home, that's no surprise to us.  Let's take a dive into some of the most exciting kitchens wrapped this year.
Two-tone kitchens continued to dominate the kitchen design scene over 2021 with white cabinetry typically used as the predominate color.  We did see contrasting colors vary, with both painted cabinetry and stained cabinetry, but both offering a truly unique look.  Much in line with our design predictions for 2021, blue cabinetry was a very popular choice for islands, lower cabinetry and even accent areas like butler's pantries and wetbars this year.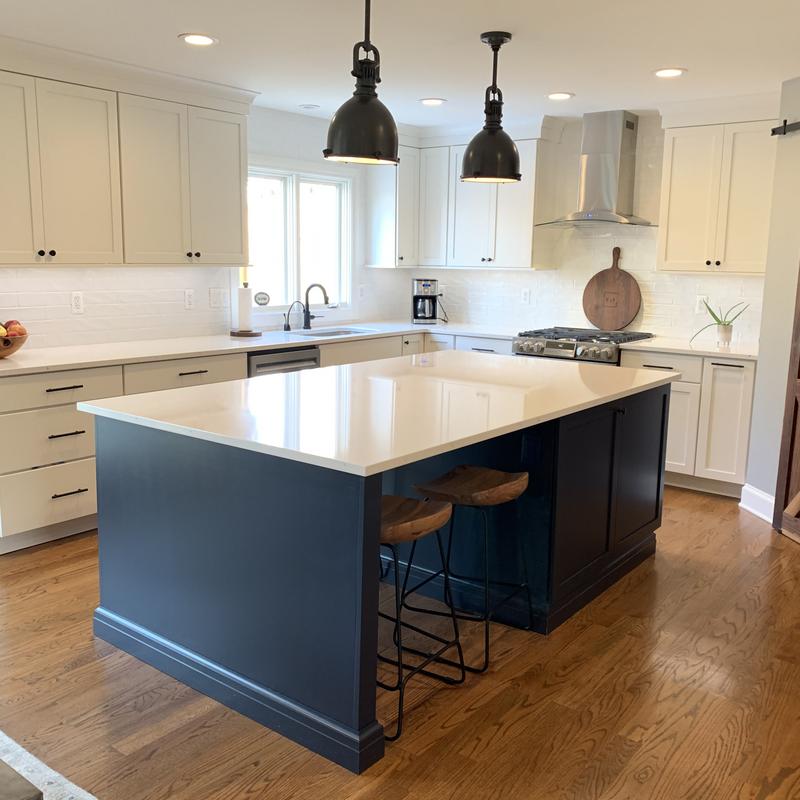 Another look we're particularly fond of within the style of two-tone kitchens, is pairing white cabinetry with rich, warm stained cabinetry.  This is a great way to blend modern with traditional, creating a truly classic look that won't go out of style anytime soon.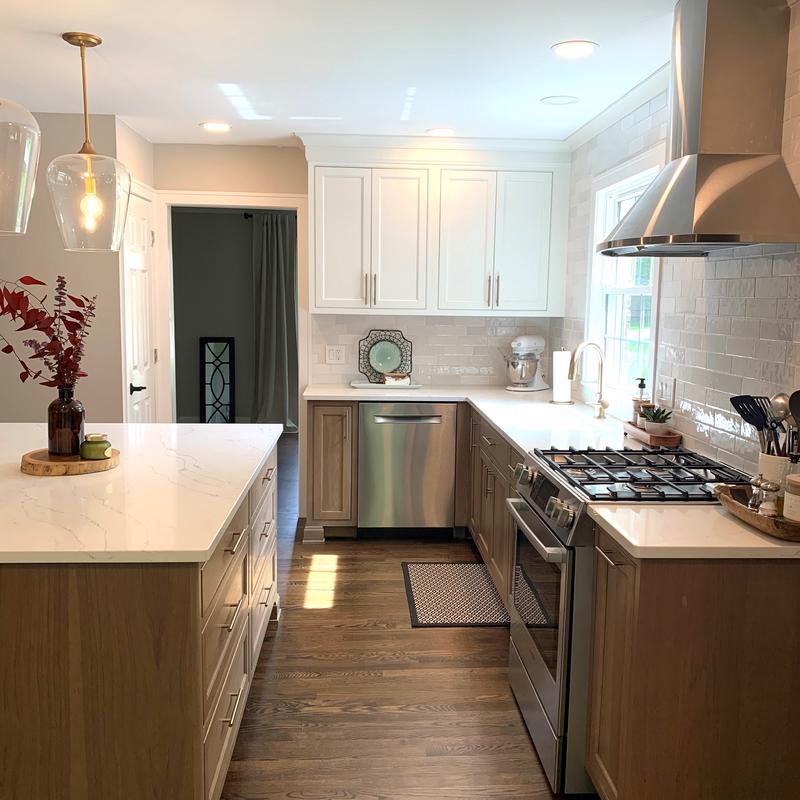 We love the addition of brass elements to this kitchen!  The hardware, faucet and pendant lighting so effortlessly pairs beautifully with the warm hickory stained cabinetry.  Brass and gold design elements also made a big statement this past year and will continue into 2022.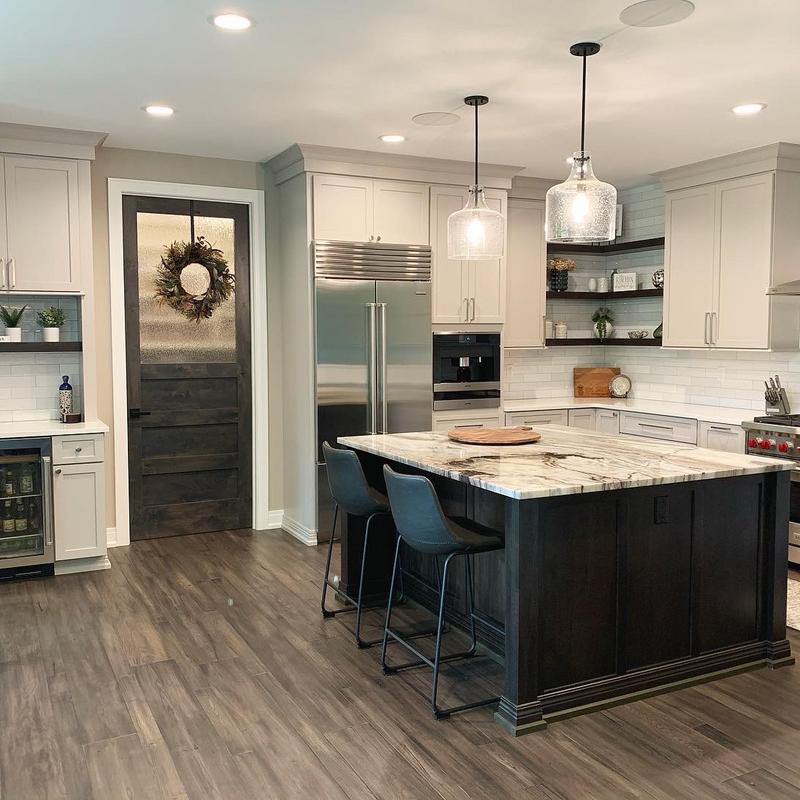 This kitchen took two-tone to the next level by incorporating two different cabinetry colors AND two different quartz countertops.  Tying the space together is a neutral, glossy ceramic tile and corner floating shelves stained to the island color.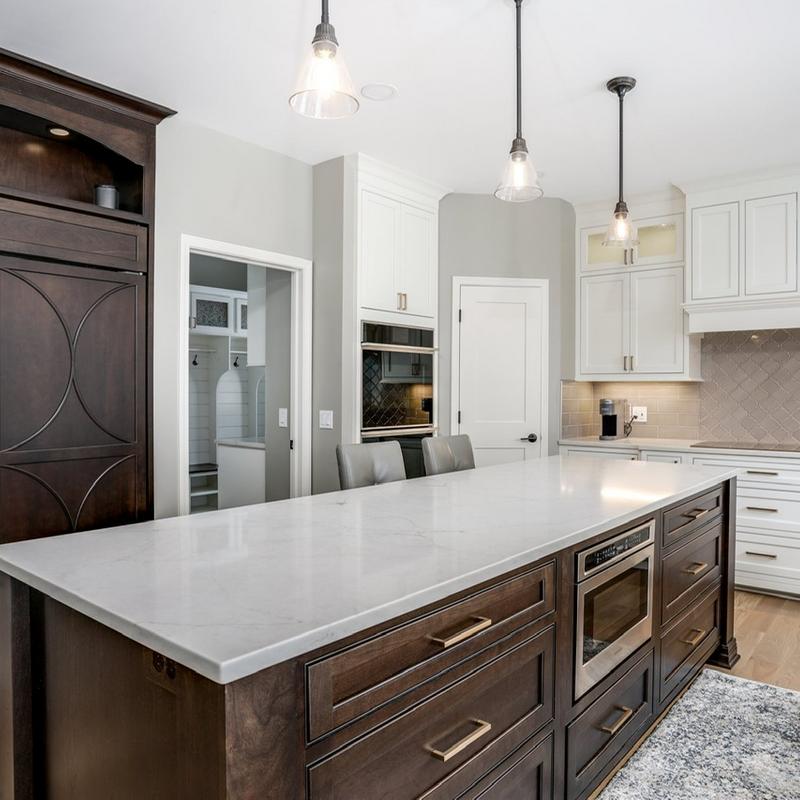 The combination of white painted maple cabinetry lining the perimeter of this kitchen pairs beautifully with a richly-hued cherry island stained in espresso.  The custom mullion refrigerator door panels are most certainly the show-stopper and act as the focal point in the space.  The addition of legs on some of the cabinetry as well as the seeded glass on the uppers blends both traditional design with modern appeal.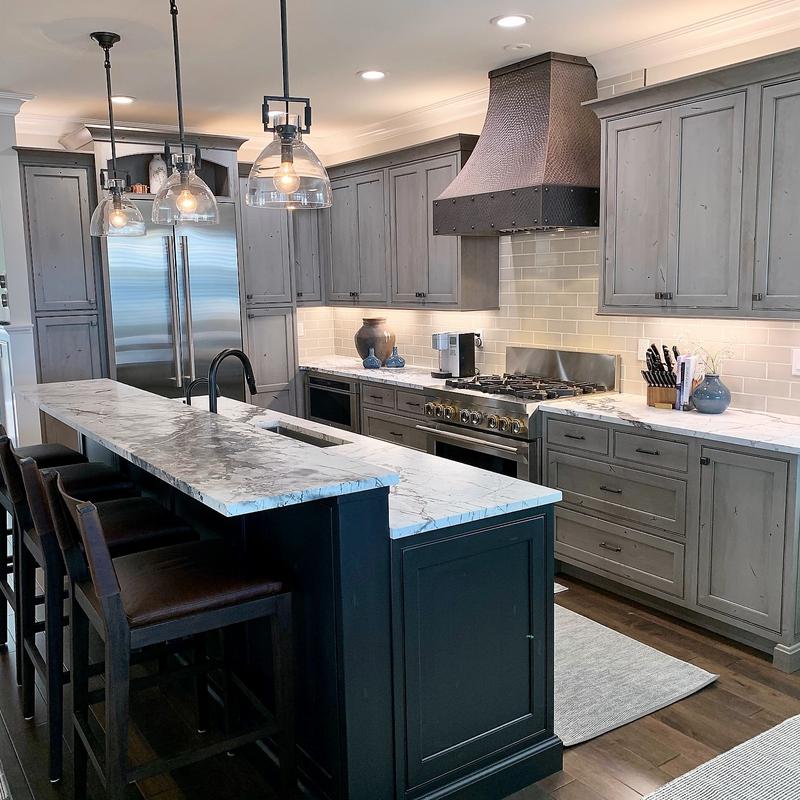 If white cabinetry isn't your style, you can still easily achieve the beauty and appeal of a two-tone kitchen, just through the use of different wood varieties or stains.  This kitchen is a great example, featuring knotty alder cabinetry used around the perimeter paired with deep-hued painted island cabinetry.  The beautifully veined marble countertop truly ties the two together.
Over the course of 2021, we saw a multitude of bathroom refreshes as well!  From bathrooms with clean lines and organic touches to chic and ultra modern, making updates to your home's bathroom can make the world of difference.  Don't believe us?  Check out some of our most popular bathrooms completed this year.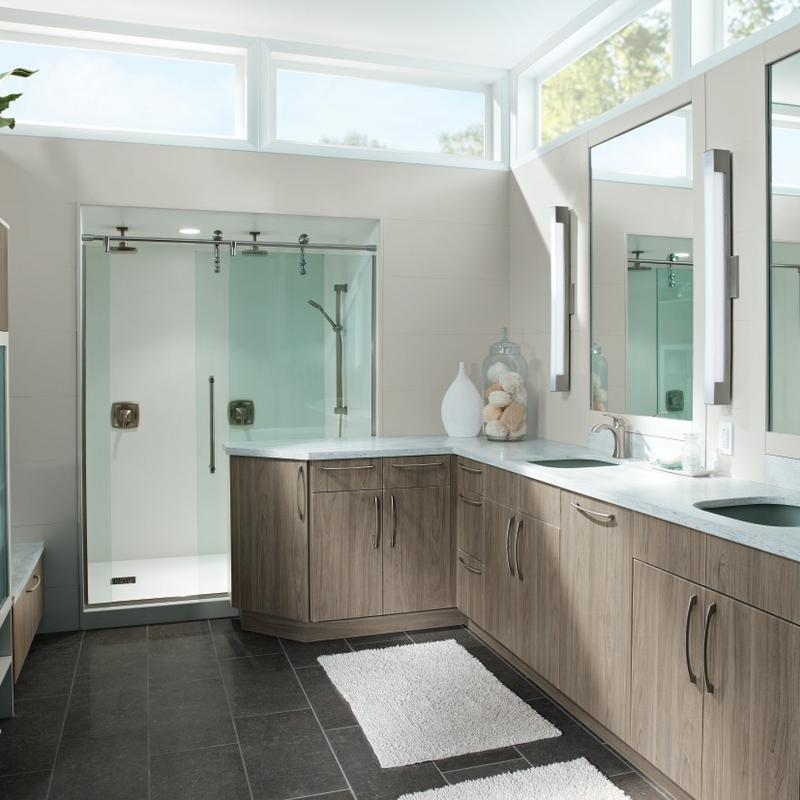 Bathtubs aren't for everyone!  In the interest of getting more vanity and countertop space, this client opted to forgo a traditional bath and extend their vanity.  No one ever complained about too much vanity space!  The vertical wood grain on the cabinetry adds visual height to the space and contrasts nicely next to the cool-hued quartz countertop.  How about all that natural light!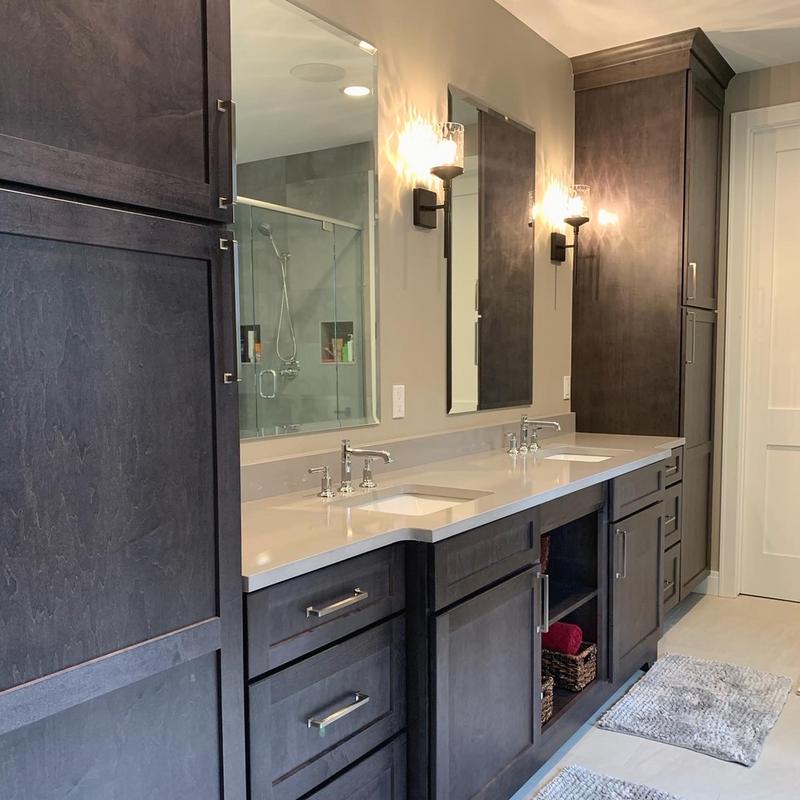 Rich stained cabinetry with a warm glaze adds significant depth to this master bathroom new construction home.  The storage options in this bathroom are both concealed with all the drawer and cabinet storage but also open, featuring an eye-catching option for towel storage.  We contrast between the warm cabinetry and the cool quartz countertop adds the prefect amount of dimension to this space.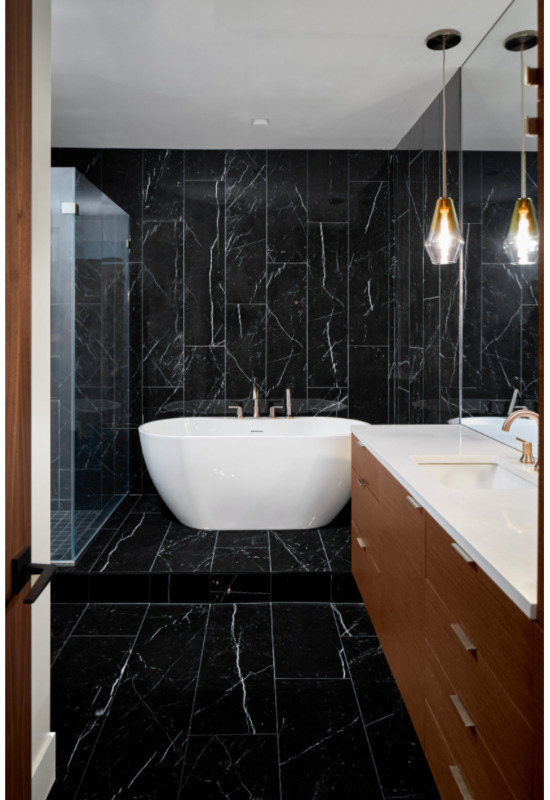 One can never have enough marble, right?  We think so!  The new construction bathroom screams modern design with the walnut floating vanity, stark floor to ceiling marble tiles and minimalist hardware.  While we always like to believe our cabinetry is the focal point of the room, we'll happily step aside for this incredible floating bathtub!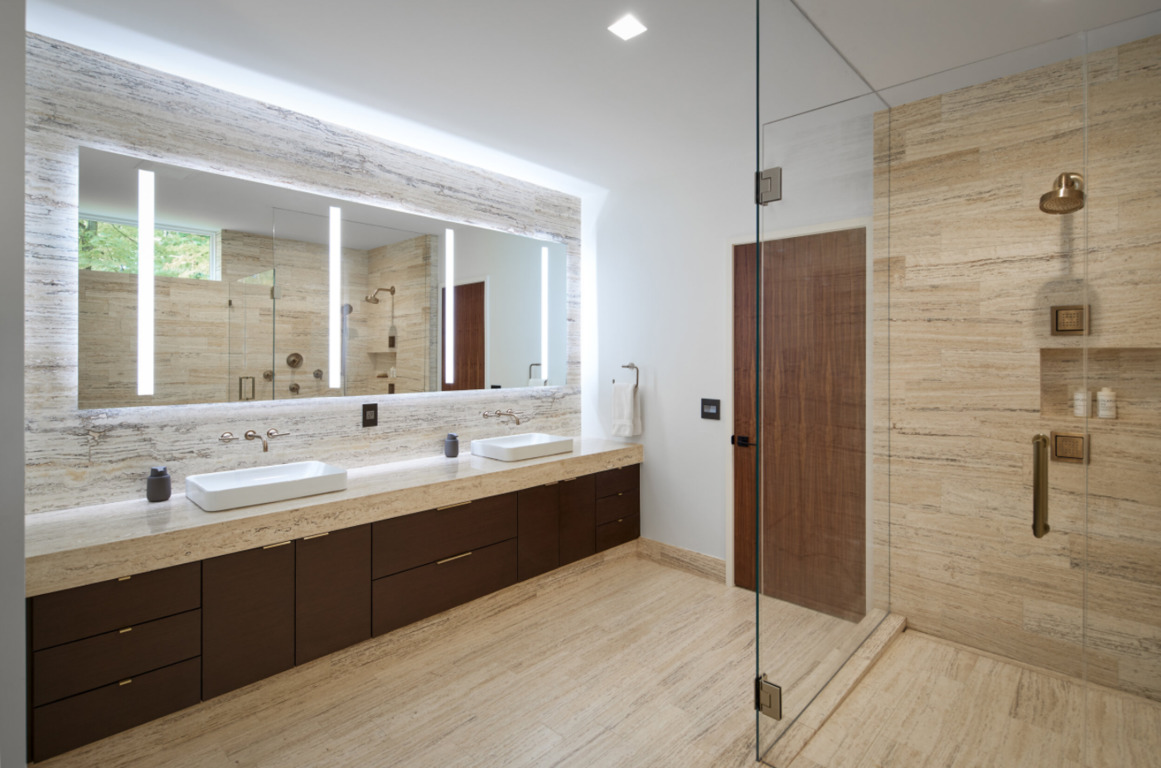 Let's talk about storage!  This bathroom is packed to the brim with storage throughout the over 15 foot run of vanity cabinetry.  The minimal vertical graining of the vanity cabinetry contrasts nicely against the vertical veining on the marble countertop, flooring and bathroom surround.  Lighting made a big impact in this bathroom too with the integrated lighting in the mirrors and the use of backlighting behind them.
For the second year in a row, entertaining at home has been the norm.  A home bar is an impactful design statement that sends a powerful message to your guests but also creates a sense of luxury and comfort.  Here's a few of our home bars wrapped this year.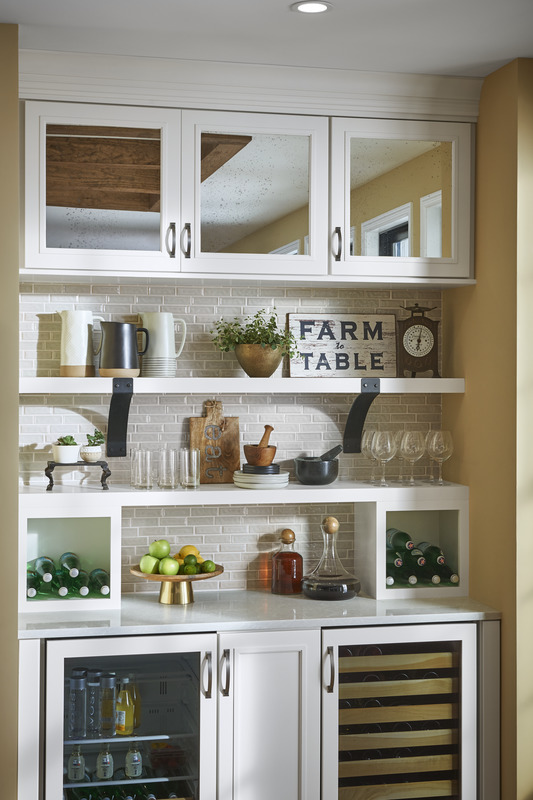 This dry bar was designed with painted cabinetry on the lowers and custom mercury glass incorporated into the upper cabinetry doors.  The addition of mirrored doors makes the space not only appear larger but it also brings some significant dimension to the space.   When our homeowners were faced with the tough decision to choose a wine fridge or beverage fridge we nudged them into the right direction – why not both!?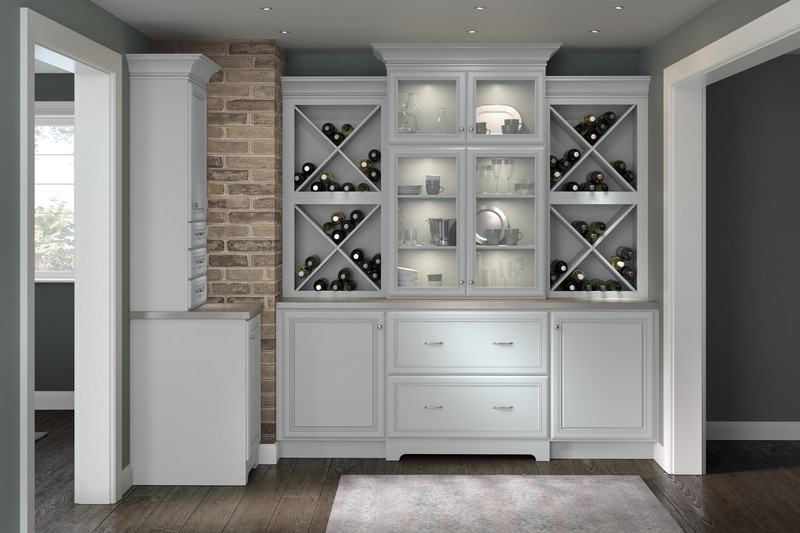 Wine bottles are sensitive… and expensive. Keeping them in the wrong place in your home can shorten the wine's lifespan, or worse, ruin them all together.  When we met with our wine enthusiast clients the built-in side bar adjacent to their kitchen seemed like a natural place to incorporate some additional wine storage.  The x-style wine cube was a perfect solution as it didn't take up too much space and made wine the feature of this small space.
And who can forget the coffee nightcaps!  Coffee bars offer a great one-stop solution for all your home-brewed cup of joe needs.  What we appreciate most about this small space is that we designed it using an appliance garage so our clients are easily able to close this door and make this space appear to be a build-in when not in use.
Beautifully updated kitchens, baths and bars weren't the only spaces that were redesigned this past year, we also spent much time redesigning another essential zone in the home, the mudroom and laundry room.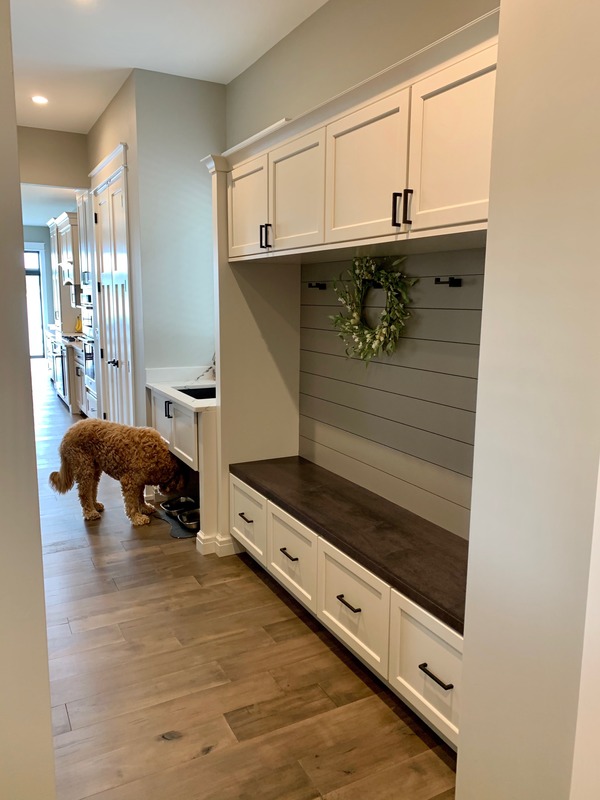 This galley-style laundry and mudroom combo features amble high and low cabinetry for storing all of your essentials like shoes and winter gear.  The bench seating offers a great place to sit down and put on shoes, still allowing enough space for hanging items on the statement shiplap with hooks.  The perfect drop zone for everyone in the family's needs… even those with 4 legs!
This mudroom laundry room combination brings in loads of extra pantry storage with this floor-to-ceiling wall pantry.  Even if the chore of laundry itself isn't luxurious it doesn't mean the laundry room doesn't have to be!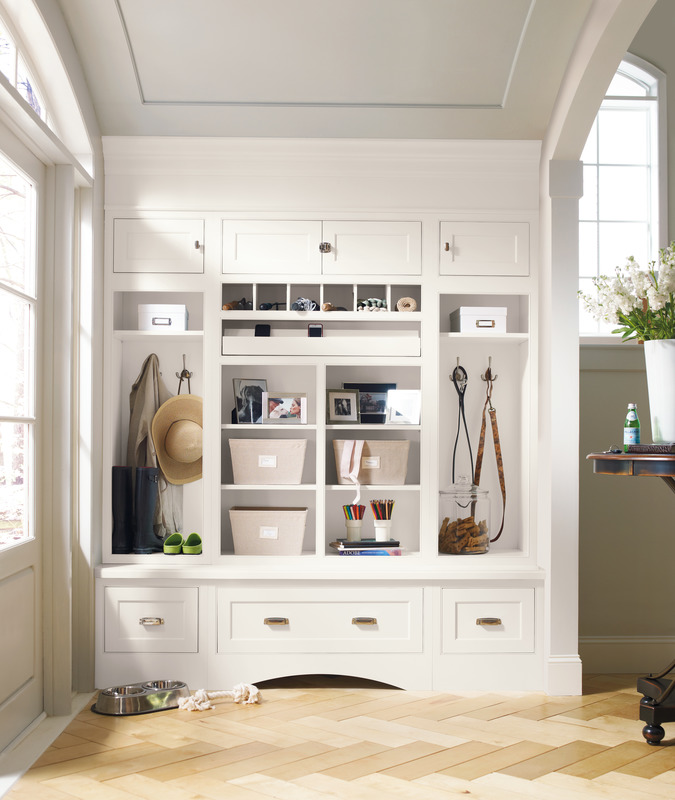 This mudroom was truly designed with the whole family in mind.  Closed off cabinetry hides some of that off-season gear while hooks still provide a place to hang personal items.  The inclusion of baskets keeps some of the extra clutter out of sight but the stunner of the space, by far, is the built-in charging zone for electronics.
And for now, as we move into 2022, it's time for a new chapter bringing more dream spaces to reality.  Will yours be one of them?  Start the process today by defining your style!
< Back to Posts