What's Trending?  Kitchen Design Trends for 2022 and beyond
A New Year brings new trends in the kitchen design industry and the design experts at E.W. Kitchens are here to take the guess work out of what's trending for this upcoming year.
We've looked at style, materials, design, and products and found four key factors driving kitchen design:
simplicity and easy of use

natural and organic elements

the desire to go bold with color

multi-functional spaces
Whether you're planning to remodel your kitchen or just get inspired for a small refresh, let's take a deeper look at all the good things coming to kitchens in 2022 and beyond.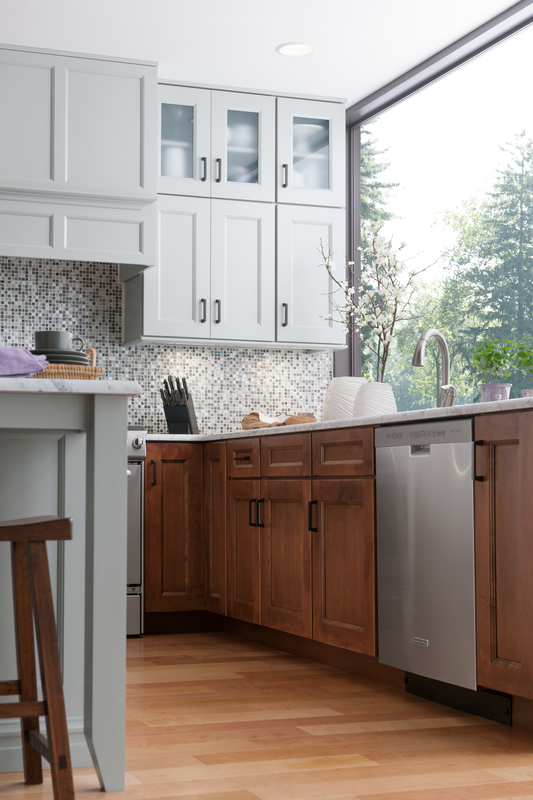 Cabinetry Color – the Bold & the Neutral
Color will make a big statement in kitchens this year.  With many of us spending so much time at home over the past few years, our homes have become our refuge and source of inspiration.  People are having a lot more fun with kitchen design, and we predict to see this reflected in color.  While using bold hues in the heart of the home isn't a new trend, we expect colors in the New Year to become warmer, moving away from many of the cooler gray tones that have been used in the past.  When we say bold, we're looking at deeper blues, greens and even blacks.
Bold isn't the only word we'll use to describe what's coming in regard to kitchen colors in 2022, expect to see more hues aligned with nature-inspired colors.  Lighter tones like cappuccino, mushroom, dune and warm cream can offer great options for those who prefer more neutral color palettes.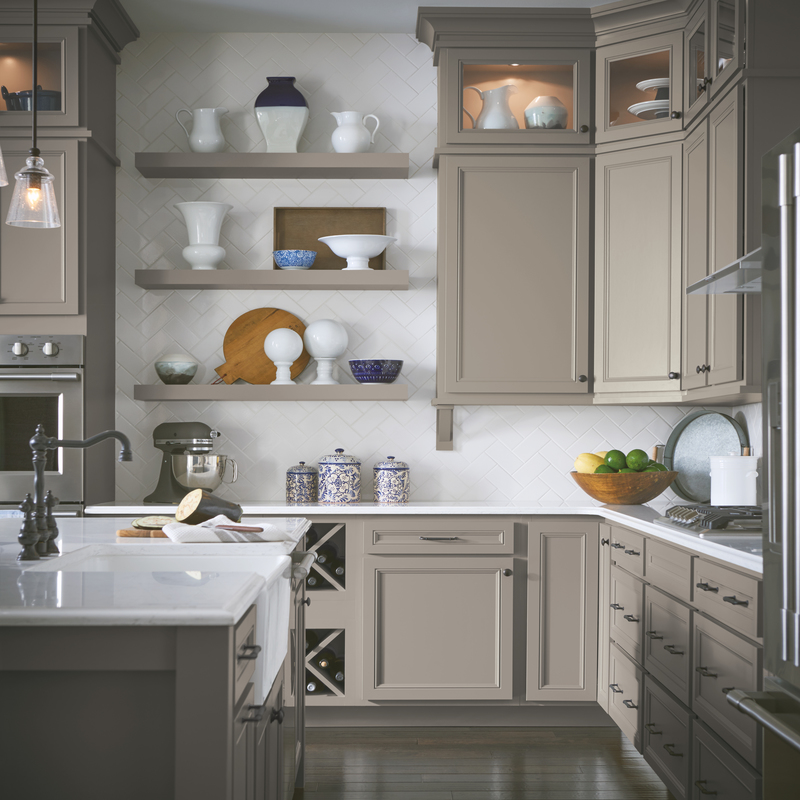 Aristokraft Cabinetry featuring the Avalon door in Stone Gray.
Painted cabinetry is not always for everyone… stained wood cabinetry is another look we expect to see more of in the New Year.  We expect to see lighter wood grains incorporated with more pronounced graining.
Multi-faceted Spaces
Throughout the pandemic, many of us discovered a whole new level of appreciation of our kitchens.  It's where we worked from home, learned from home, cooked all the meals when we couldn't go out to eat and endlessly (mindlessly?) scrolled through our phones.  As we approach the new year, we've certainly realized the importance of a kitchen that's multi-faceted, and there will be no shortage of design ideas for those looking to revamp this frequented space.  Here's a few of our top suggestions!
Work and/or Study Zone

Reading nook with a built-in banquette for cozying up in

Drop zone for charging station

Designated pet feeding zone

Expanded Pantry for the extra foods we're storing at home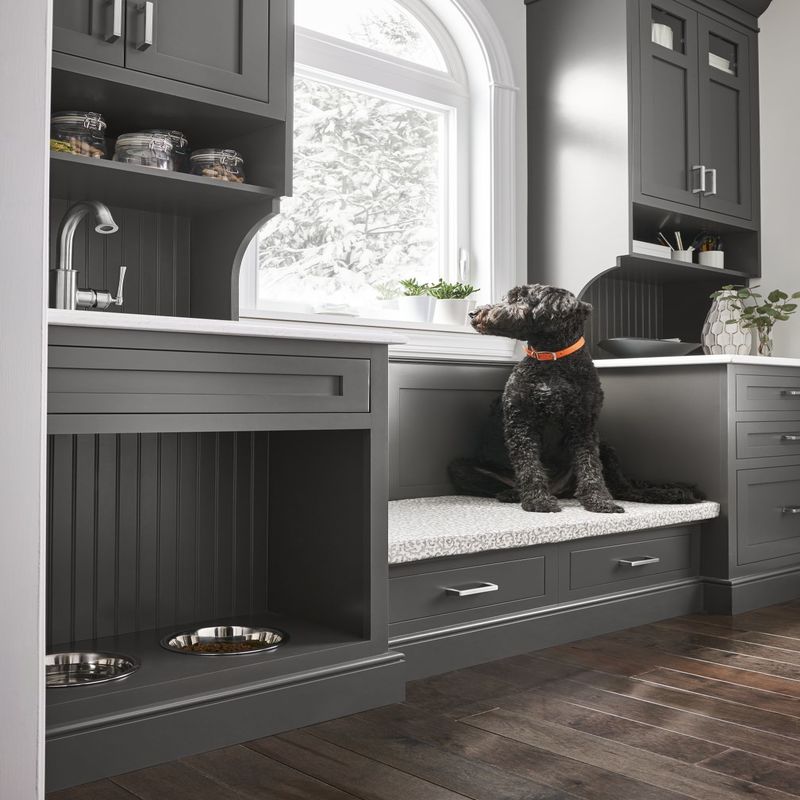 Yorktowne Cabinetry Burbank door in Earl Grey Classic. 
Family pets will become more incorporated into kitchen design this year, whether that be in food storage or integrated feeding zones.  Utilizing an unclaimed area such as the toe-kick for a feeding zone is a great option – we think Fido will happily agree!
Kitchen islands will continue to be chock full of functionality.  We expect them to continue to stay large enough for ample food prep space as well as dining.  If space allows, luxury items like a secondary sink and wine or beverage refrigerators also make great additions to islands and leave quite the statement.  Whatever function you need in your island may we also suggest adding in a charging drawer or two?  We love us a countertop free from devices!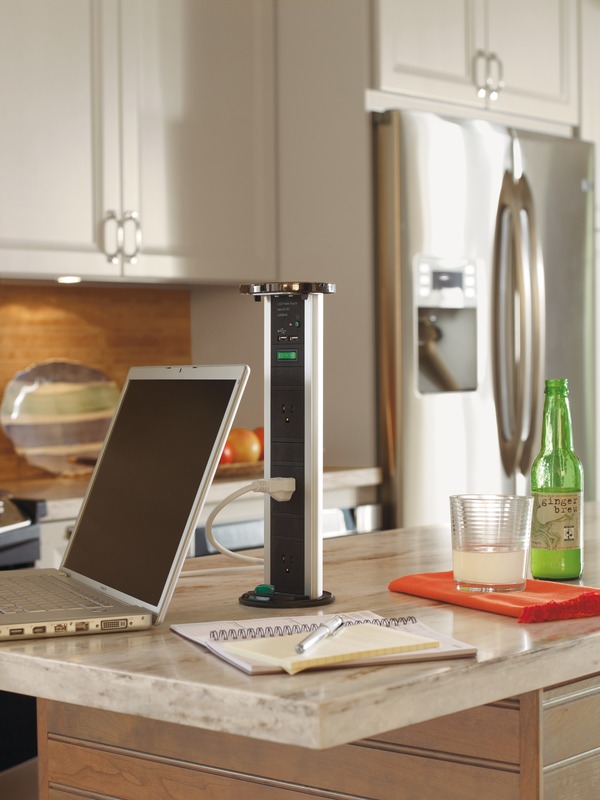 Add function to your kitchen island by integrating a charging tower.
The Statement Piece – The Range Hood
For yet another year, we are predicting range hoods will be big, and we literally mean big!  Custom-made hoods are being designed in nearly every metal and the sky is the limit when it comes to designing yours.  Custom hoods can come in an array of colors, made from a variety of materials, including woods and metals.  The only thing holding you back when it comes to your new range hood is your imagination.  You imagine it, we'll design.  Expectations for range hoods of the future fall into three categories: wood, metals and concealed.  There's an appropriate range hood for every style out there and each offers just as much pizzazz as the next.
Yorktowne Cabinetry range hood in Maple Peppered Appalloosa finish.
Countertops Choices
Popular countertops for 2022 and beyond, for the most part stay in the quartz and quartzite families.  We anticipate the use of more and more light-colored quartz, often times using a different colored countertops on the island or an adjacent bar area.   Another material that is popping up in designs of late is porcelain – and trust us, it's not just for your Grandma's china anymore.  This material gets you the look of marble or natural stone without the upkeep and maintenance. Want to know of the benefits to porcelain? It's stain resistant, easy to clean and now comes in a huge variety of different patterns and finishes.  Porcelain is also a much thicker stone than a traditional quartz so it makes quite a statement in a kitchen.  Want more countertop suggestions?  Check out some of our other recommendations, here!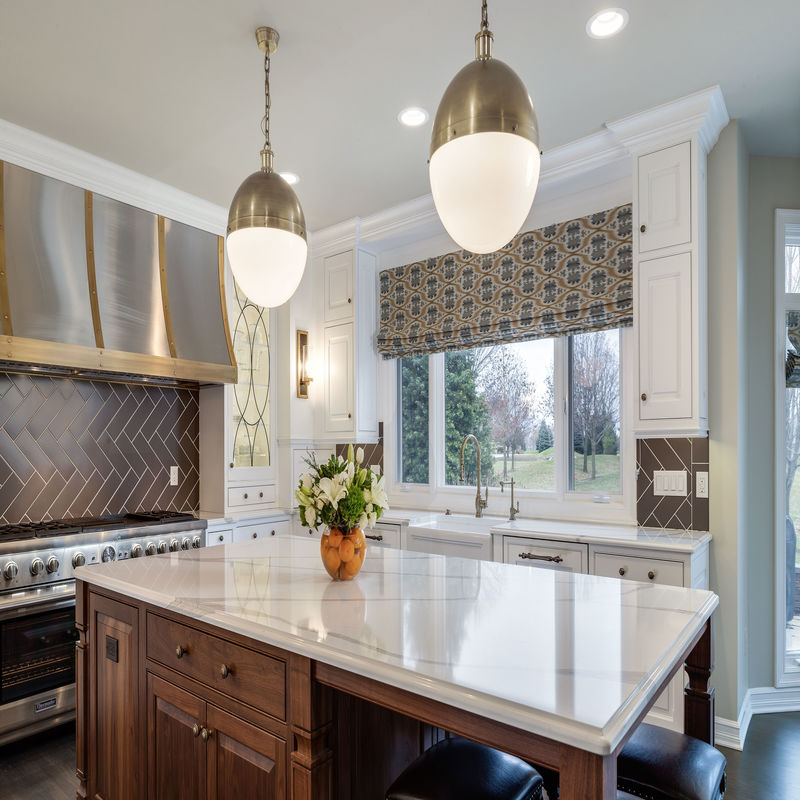 This Mouser kitchen is topped with Cambria Britannica quartz countertops. 
Back to Back(splashes)
While it pains us to say it, traditional tile may be on its way out.  Stay with us here.  More and more modern kitchens are now opting to continue their countertop slab and wrapping it up the wall, making both a bold and clean statement.  Since there's no grout, this look enables continuity of stone from countertop to wall.  The more glamorous or veiny your stone, the better as this look lets one-of-a-kind stones, like porcelain or quartzite shine.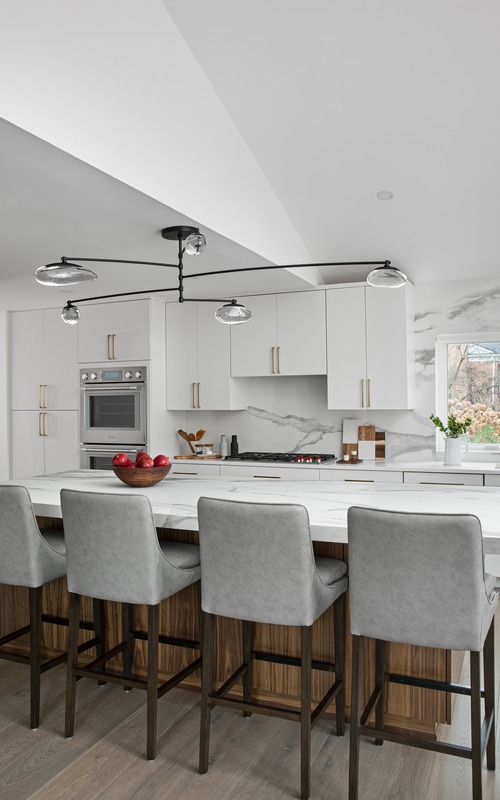 A porcelain countertop adds dimension to this kitchen island, which is paired with quartz on the perimeter and backsplash.  
If your style leans more traditional or transitional and you still love the look of a tile, have no fear!  We expect tile backsplash designs to continue to look (and feel)  hand-crafted, with rich textures and interesting patterns.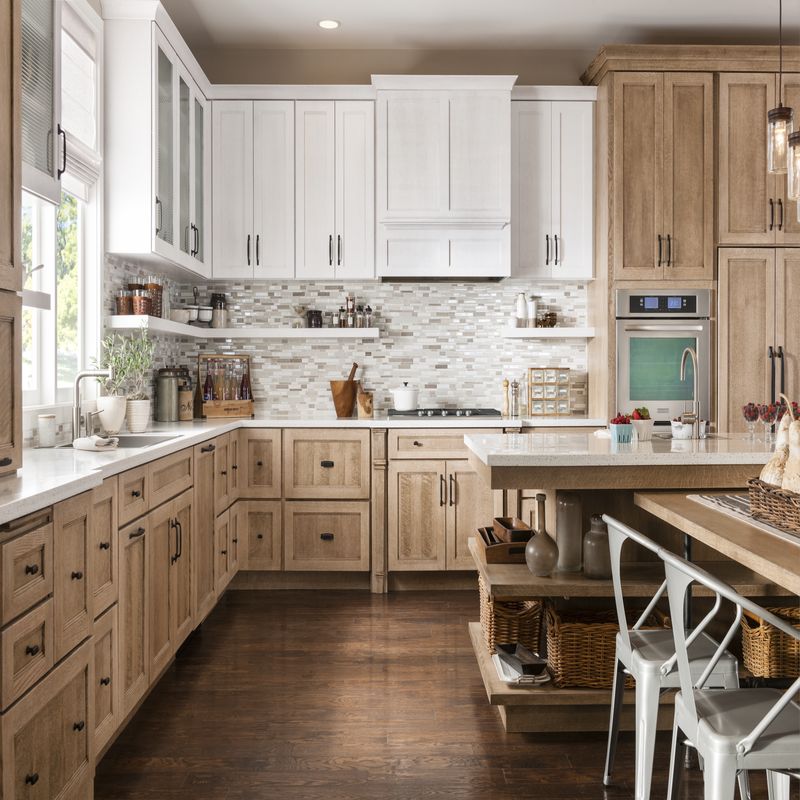 This Yorktowne kitchen pairs cappuchino stained maple cabinetry on the lowers with white icing painted cabinetry on the uppers.  
Anyone still have a deep love for a classic subway tile?  That's OK!  We're guilty too.  Subway tile is a timeless and versatile material that meshes well with all sorts of styles.  Elevate this design element in your kitchen by changing the pattern by how the tile is laid.  Our current favorites are: herringbone, vertical and horizontal stacking and basketweave.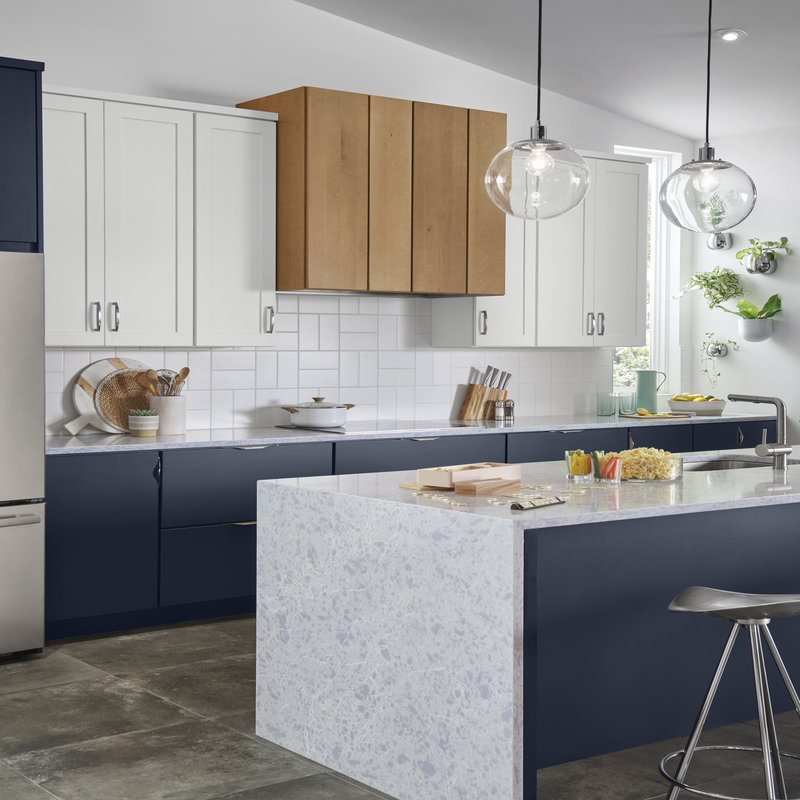 This two-tone Yorktowne kitchen uses a mix of horizontal and vertical stacking with traditional white subway tile making the space a bit more modern.
Concealed Storage
The past few years we've seen upper cabinets disappearing as homeowners move towards a more minimalist lifestyle.  That said, people still have stuff, so it's been our pleasure to identify more thoughtful and practical ways to incorporate storage into our designs.  2022 will be no change and we believe that the "hide it all!" approach will stay increasingly important.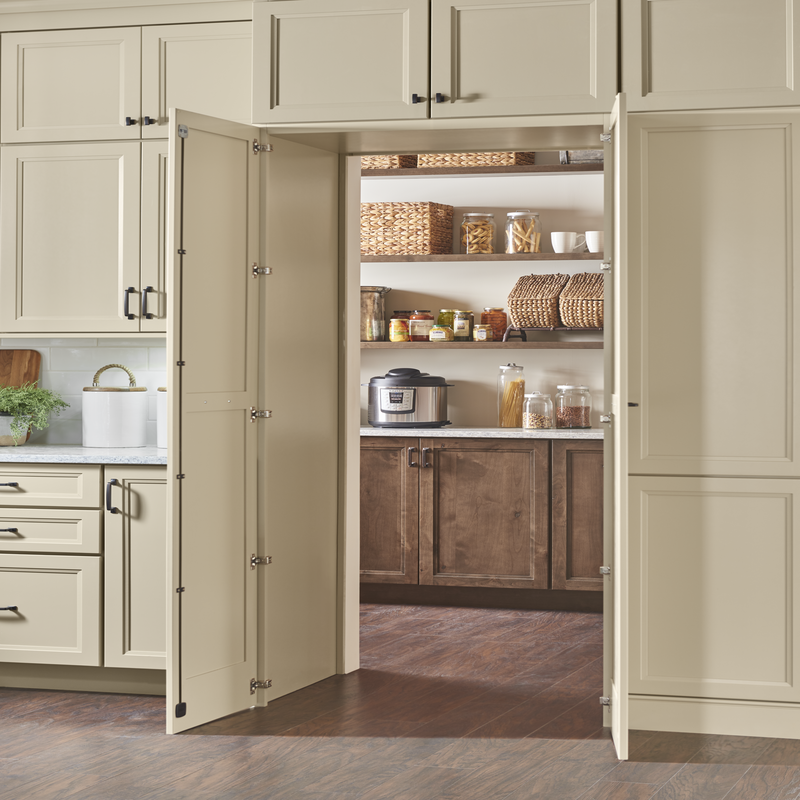 A walk-through hidden pantry is a great option to hide not only food storage but also conceal small appliances. 
We expect to see more uses of appliances garages to hide small appliances, closed off coffee stations and even hidden pantries, which offer homeowners the option to keep items out of site and keep the kitchen clean and minimal.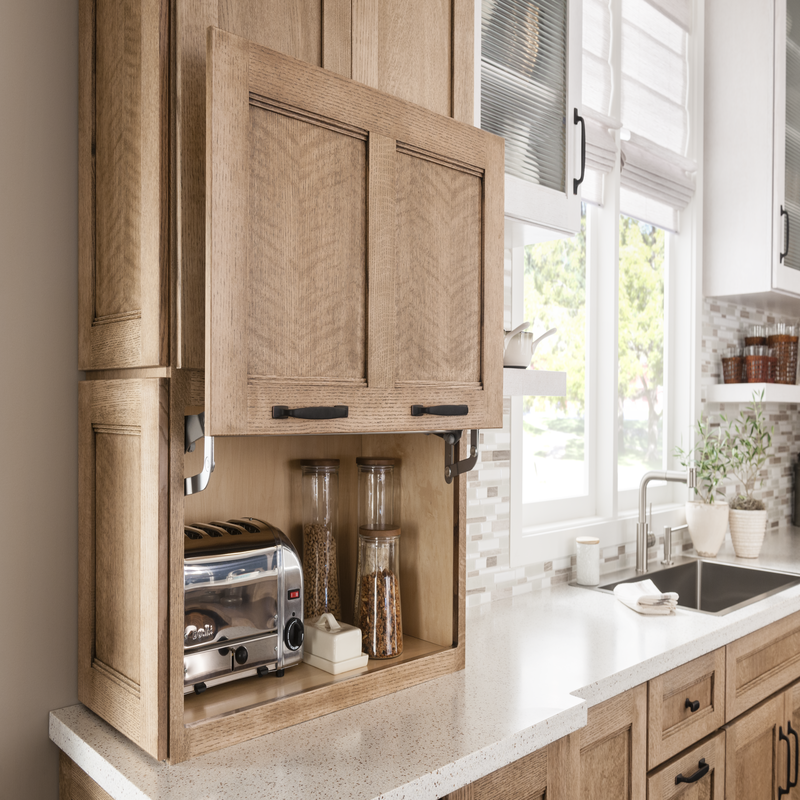 Keep unsightly small appliances tucked away yet easily accessible with an appliance garage.  Now you see it, now you don't!
Finally, the Finishes
We will continue to see two dominant colors in finishes in the kitchen, golds and blacks.  As we predicated years ago, gold has made a resurgence in the home and this hued finish, along with its brass family friends, will be around for a while.   For other fixtures in the kitchen, like faucets and lighting as well as hardware, think less shine and more matte finishes.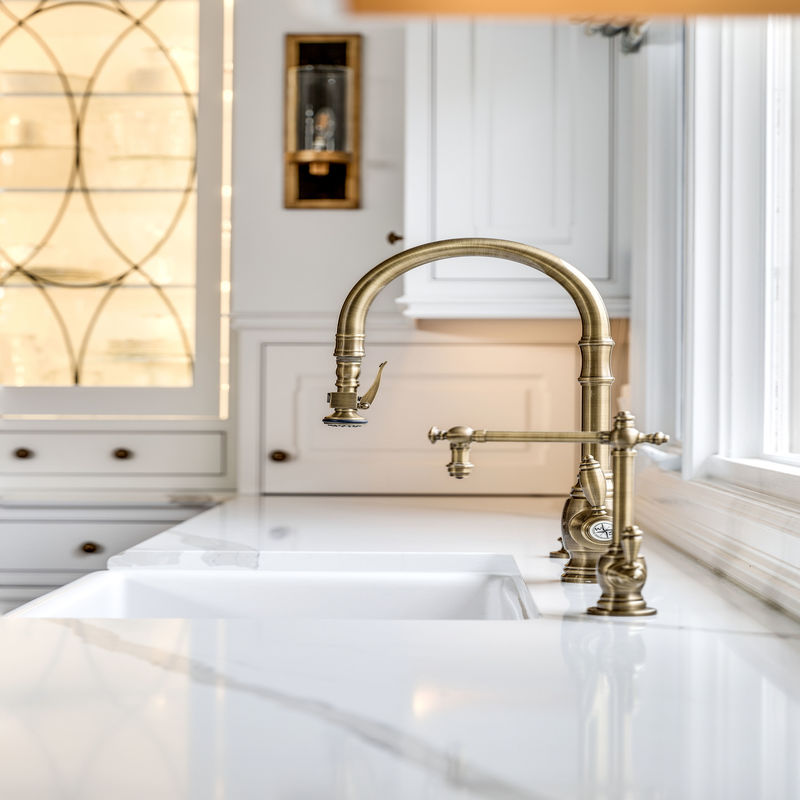 If you find yourself still preferring a sheen of nickel, that's OK too!  Silver is a classic and timeless metal that will never be out of style.
If you tend to find yourself drawn to a more contemporary styles with modern slab doors, sometimes it's best to let the cabinetry shine and opt for touch-latches rather than traditional hardware.  This offers a chic and clean look that lets the cabinetry be the true star it is.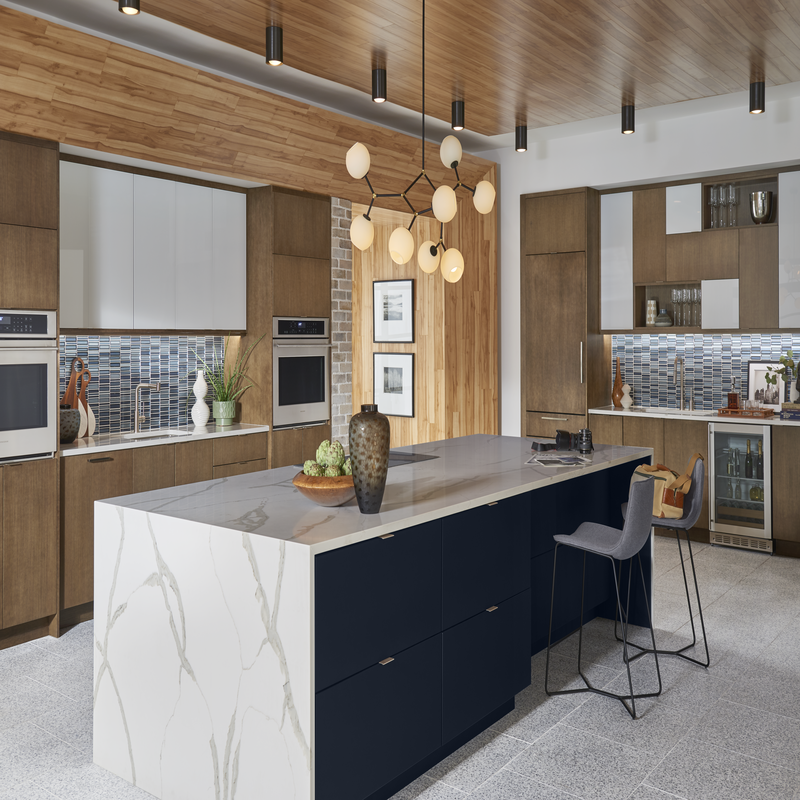 This Yorktowne Cabinetry kitchen features a mixture of slab doors and drawers with minimal hardware but also touch-latch doors for a more modern look. 
While the future is unknown to us all, the future of kitchen design is looking bright.  As always, these trends are simply predictions on where we think kitchen design may go in 2022 and beyond.  What's most important to our dream team of designers  is bringing YOUR dream kitchen to reality.  Start the process today by defining your style and creating your very own personalized moodboard!
< Back to Posts