Mixing it Up – Wood Tones in the Kitchen
Mixing wood tones in the kitchen is all the rage these days.  And because our Dream team loves to mix (wood) things up, we're sharing why mixing wood tones is a look to embrace and how to make the look work in your space.
Mixing up the wood tones of your cabinetry and accessories creates a cool and effortless vibe in your space.  There's no magic formula when it comes to mixing wood tones in your space, but here are some tips for mixing and matching shades like a pro:
The use of different wood toned shiplap really helps the high gloss floating shelves and euro-style floating cabinetry pop!  This dining room is taken to the next level with the addition of the lucite wine racks.  Cheers!
Design by: RL Concetti with Mouser Cabinetry
Live edge woods are a design element we're seeing a lot of right now and for good reason!  The natural shape of the live edge shelf juxtaposed against this beautiful distressed walnut Ayr Cabinetry makes a statement that any wine afficanado could support.   The white shiplap walls coupled with the (red wine) spill resistant countertop of Cambria quarts makes this a look to stand the test of a good vintage.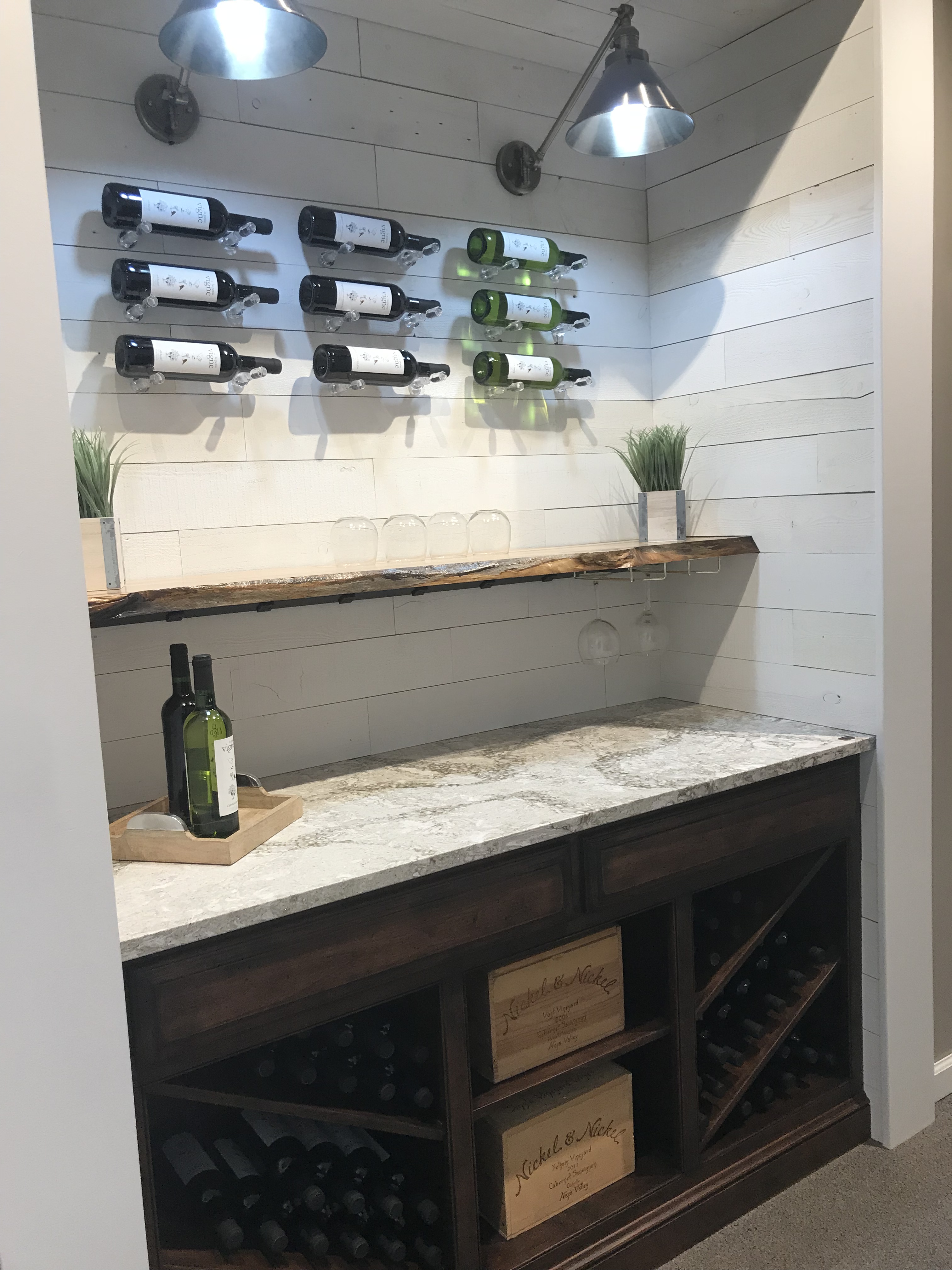 Designed with Ayr Cabinetry 
We are just loving the play between all the different wood tones in this meticulously designed kitchen.  The painted maple cabinets really pop next to the light wood toned floating shelves and the beautiful walnut island.  Throw in the brass hardware and fixtures to warm the room up?  Yep, we're definitely in love.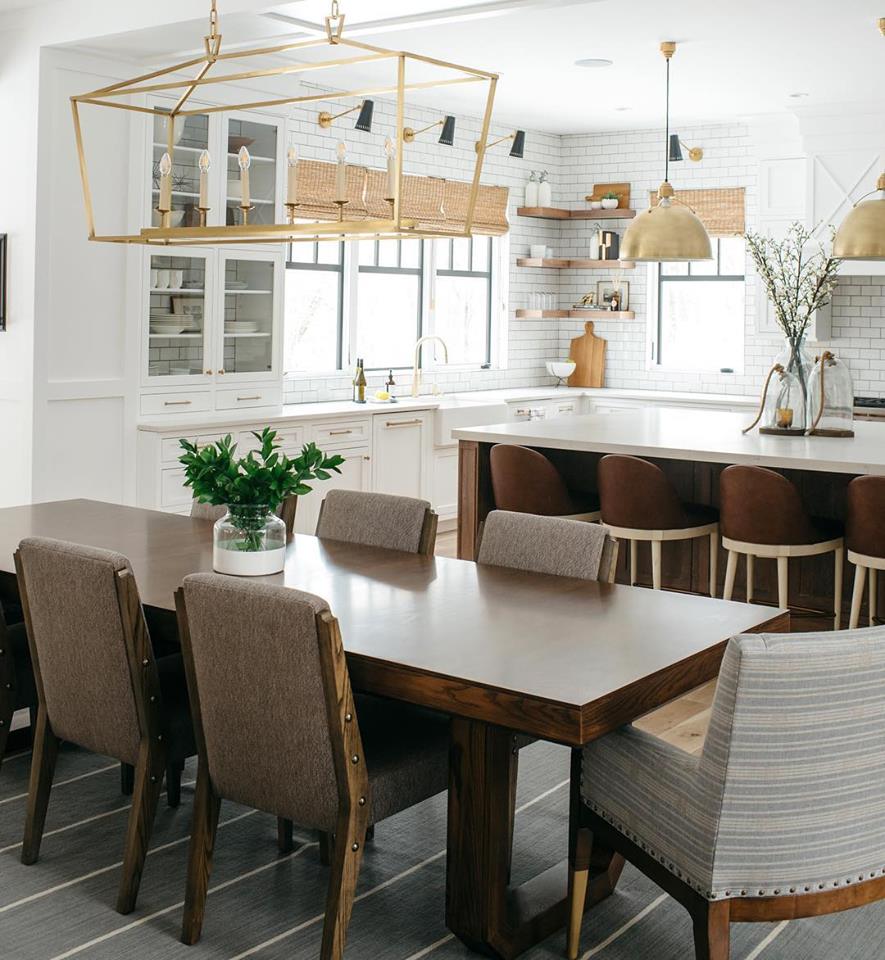 Design by Leighanne LaMarre Interiors with Mouser Cabinetry 
This next kitchen, in our opinion, is the definition of the "new neutral".  This room is not just a great way to showcase using different wood tones, but also different wood textures.  Pairing matte black appliances and fixtures in this space is a way to keep it looking classic for years to come.
Design by Leighanne LaMarre with Mouser Cabinetry 
Adding wood planks to your cabinetry back can be a task and cost effective solution to achieve the desired rustic farmhouse or rustic industrial look.  With reclaimed wood, you have the advantage of incorporating rich colors and all those unique characteristics that come from weathered wood.  If you need us, we may or may not be bellied up to this basement bar.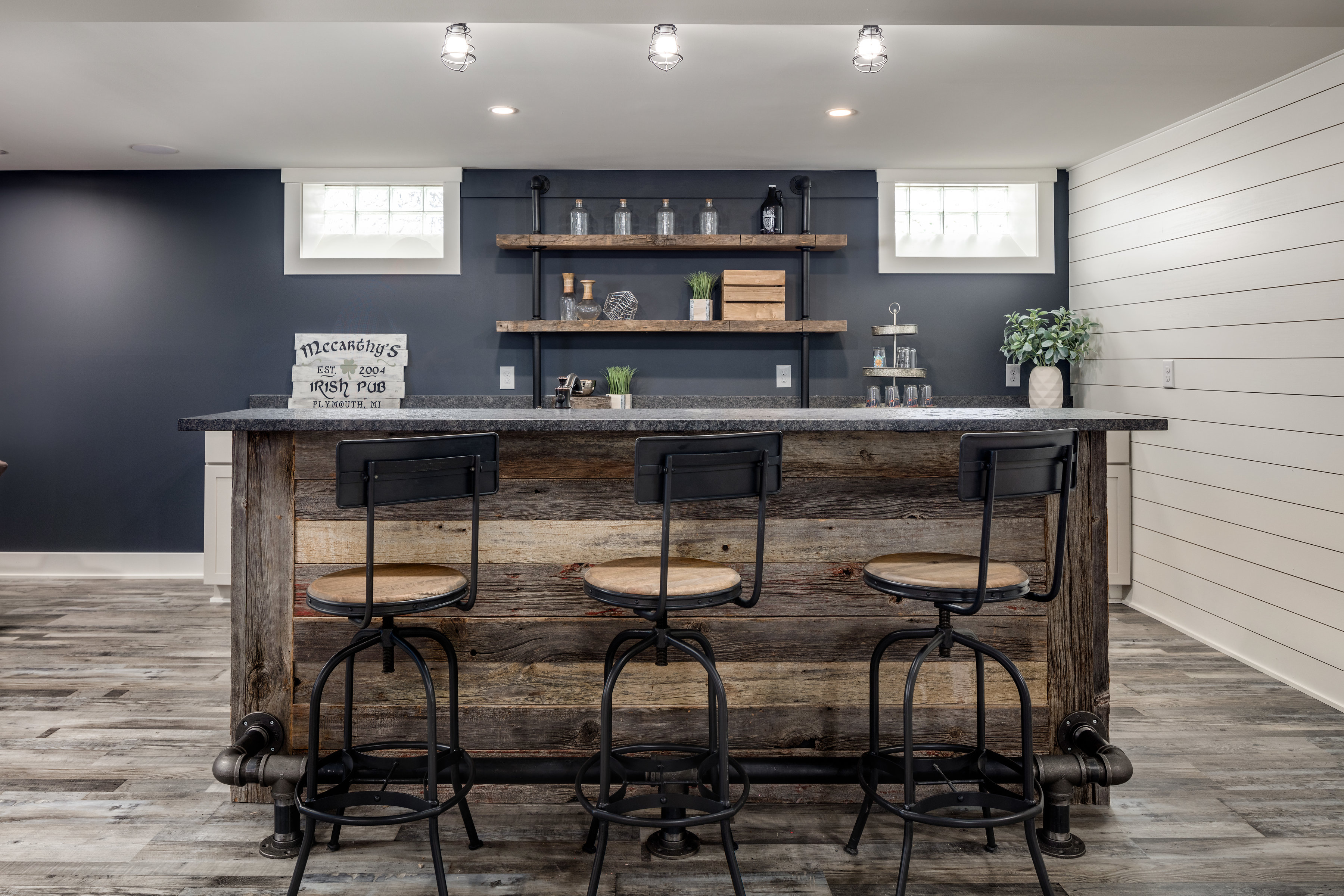 Designed with Yorktowne Cabinetry 
We're going outside the box here and sharing a project that's still in the works – but when it's good, it's good, sand we're all about sharing the goods.  The play here between the white cabinets and medium tone wood countertop keeps this wet bar amazingly interesting.  Wood countertops bring a certain warmth and dimension to a space and when done right (in this case) they will bring years of beauty and interest to a room.  More to come on this beaut.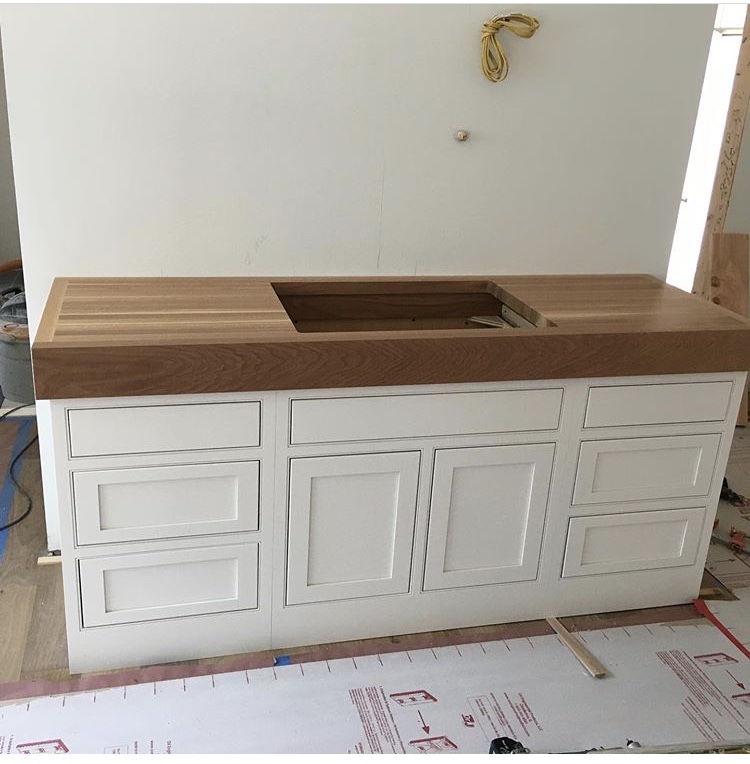 Designed with  Mouser Cabinetry 
Another way we love to incorporate woods in  a kitchen is via a custom range hood.  In this particular kitchen, we worked with reclaimed barnwood, which gave us some incredible variation in colors, making this space totally unique.  This hood paired so nicely next to the ivory cabinetry and similiarly colored subway tile.  The style is simple yet refined.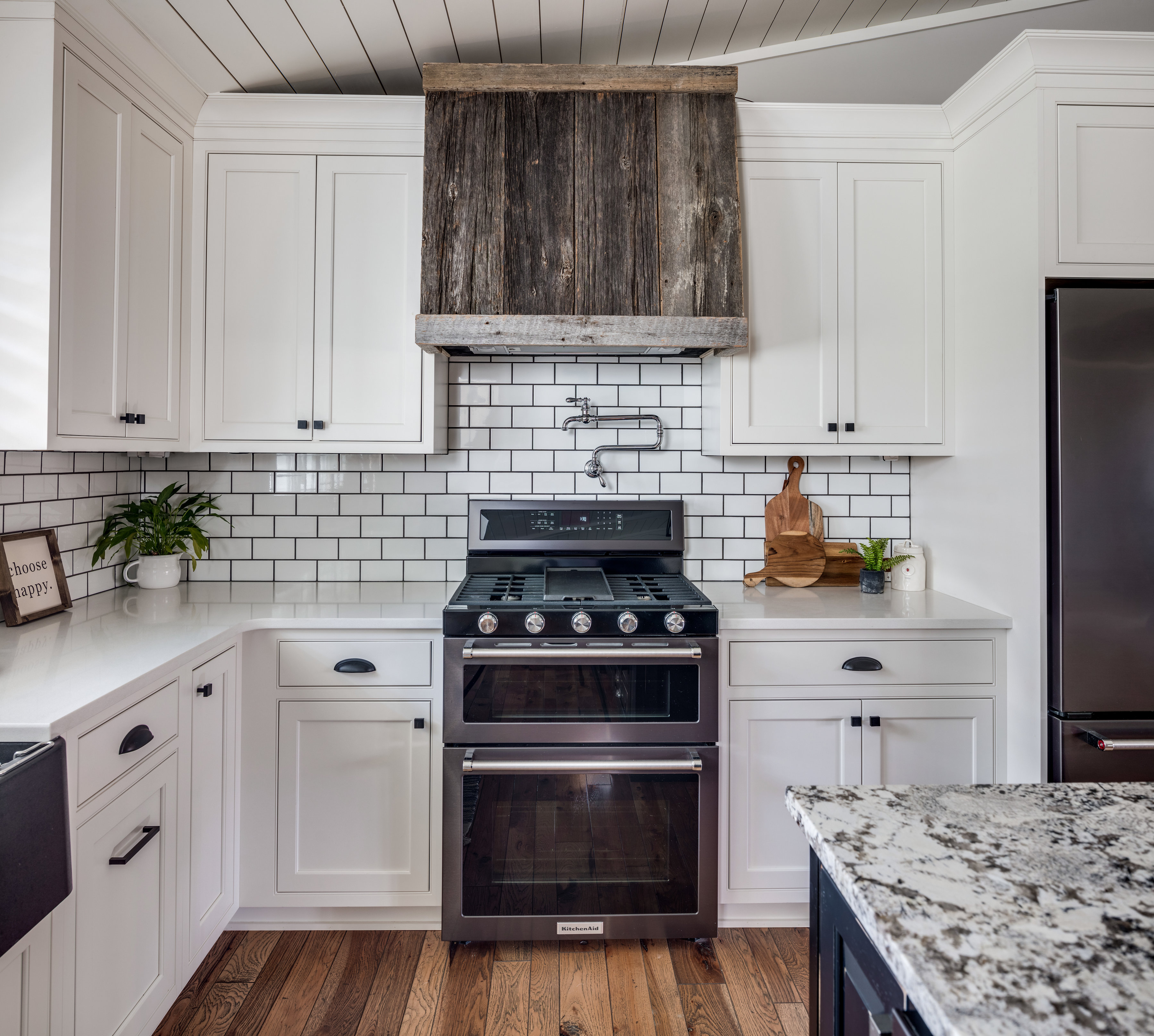 Designed with  Mouser Cabinetry
Allowing various wood finishes to co-exisit can result in a more eclectic and layered look which lends just the right amount of texture and depth.  We're ready to mix things up in your kitchen when you are, to start, Define Your Style and let our Dream Team handle the rest.
< Back to Posts