Make the Most out of Your Mudroom
Long gone are the days of cramped hallways littered with coats, shoes and backpacks!
What used to be just a luxurious afterthought in homes is now becoming a highly desirable and useful space in eyes of homeowners – the mudroom!   Despite being around for several decades, mudrooms have become increasingly popular as American homes are becoming larger.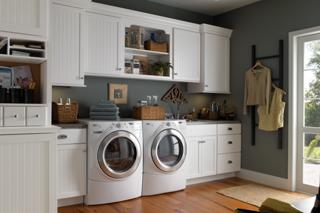 Sure, modern mudrooms boast of great aesthetics but their purpose is still very much function.  When it comes to mudroom storage, the options are many and varied from simple boxes to hooks and many more.  Here are a few organization solutions to consider when imagining your updated mudroom space:
Cabinets – cabinets come in handy for things like sports equipment, books and other items that cannot be hung. Both wall and floor cabinets can be utilized depending on space requirements.
Bench – this is something many homeowners overlook but can have a lot of benefits. A built in mudroom bench provides a place for people to sit down as they take off their shoes. You can also place your handbag or backpack on it as you enter the house.
Shelving – open shelves provide multi-functional storage for items like shoes, smartphones, keys and hats.
Hooks – keep coats, hats and light weight bags off the floor by adding in a variety of hooks at different levels for all members of the family.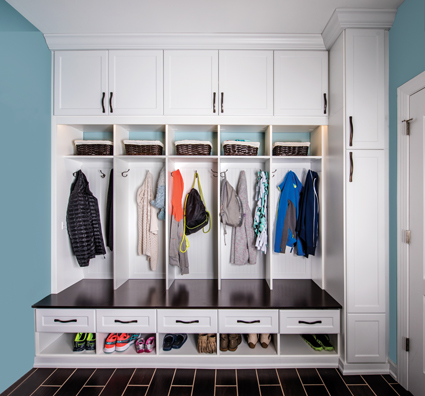 Many people believe larger homes with bigger families are likely to benefit more from a mudroom than smaller homes with smaller families.  We say, "don't believe it!"  We've designed mudrooms big and small, so don't feel your space limitation is a game changer – everyone wins when organization is the name of the game.
< Back to Posts