Blue-tiful Cabinetry Looks for Your Home
Is there anything as tranquil as sitting under a clear blue sky or gazing at a shimmering blue ocean?
The color blue triggers feelings of relaxation, peace, and expansiveness.  When used inside the home, blue creates those same feelings of tranquility, space and luxury so it seems a natural choice for your kitchen cabinetry color.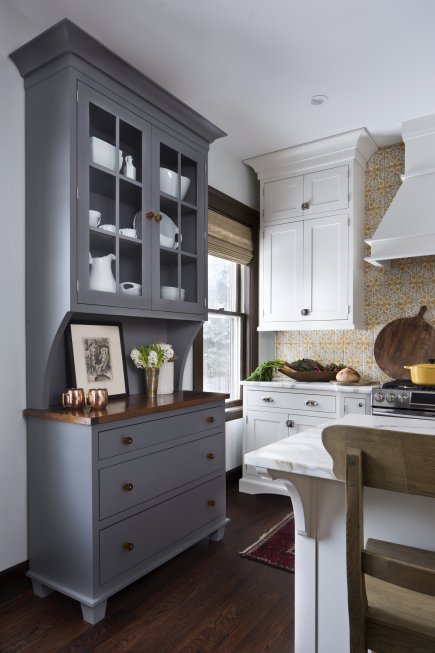 Mouser Cabinetry
There are literally thousands of shades of blue to choose from depending on your décor preference and the style you are going for.  A lighter hue will give off a more airy coolness to the space, while deep navy cabinetry will bring on a more luxurious feel.  So, how do you go about choosing the right shade for your kitchen?  It all depends on the feel and style you are going for.  Here are a few of our favorite blue spaces.
Reminiscent of surfside cocktails and lazy days in the sand, this eye-catching pop of color on the island makes everyday feel like a vacation day.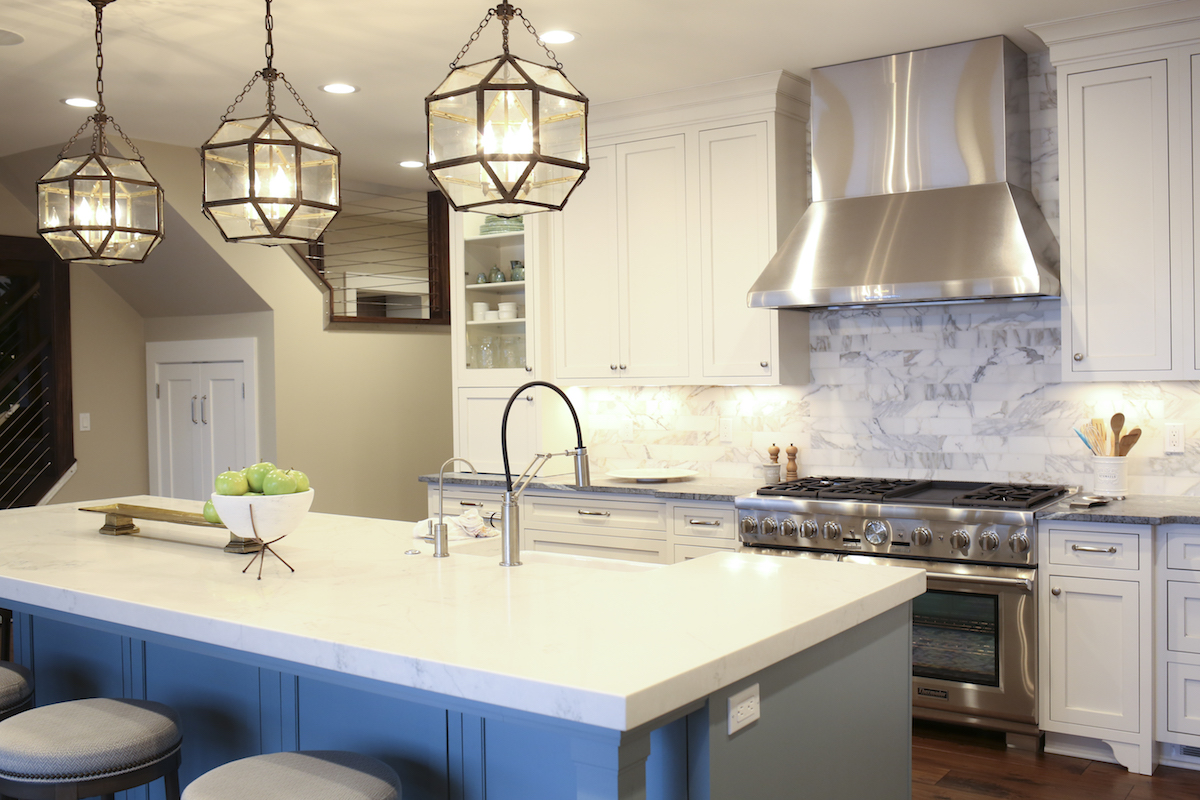 Design by Leighanne LaMarre Interiors with Mouser Cabinetry
Giving the stand alone pantry its own unique splash of color really brings focus to these beautiful mullion doors.  Keeping the rest of the cabinetry a neutral white makes an effortless look that's intriguing without looking too busy.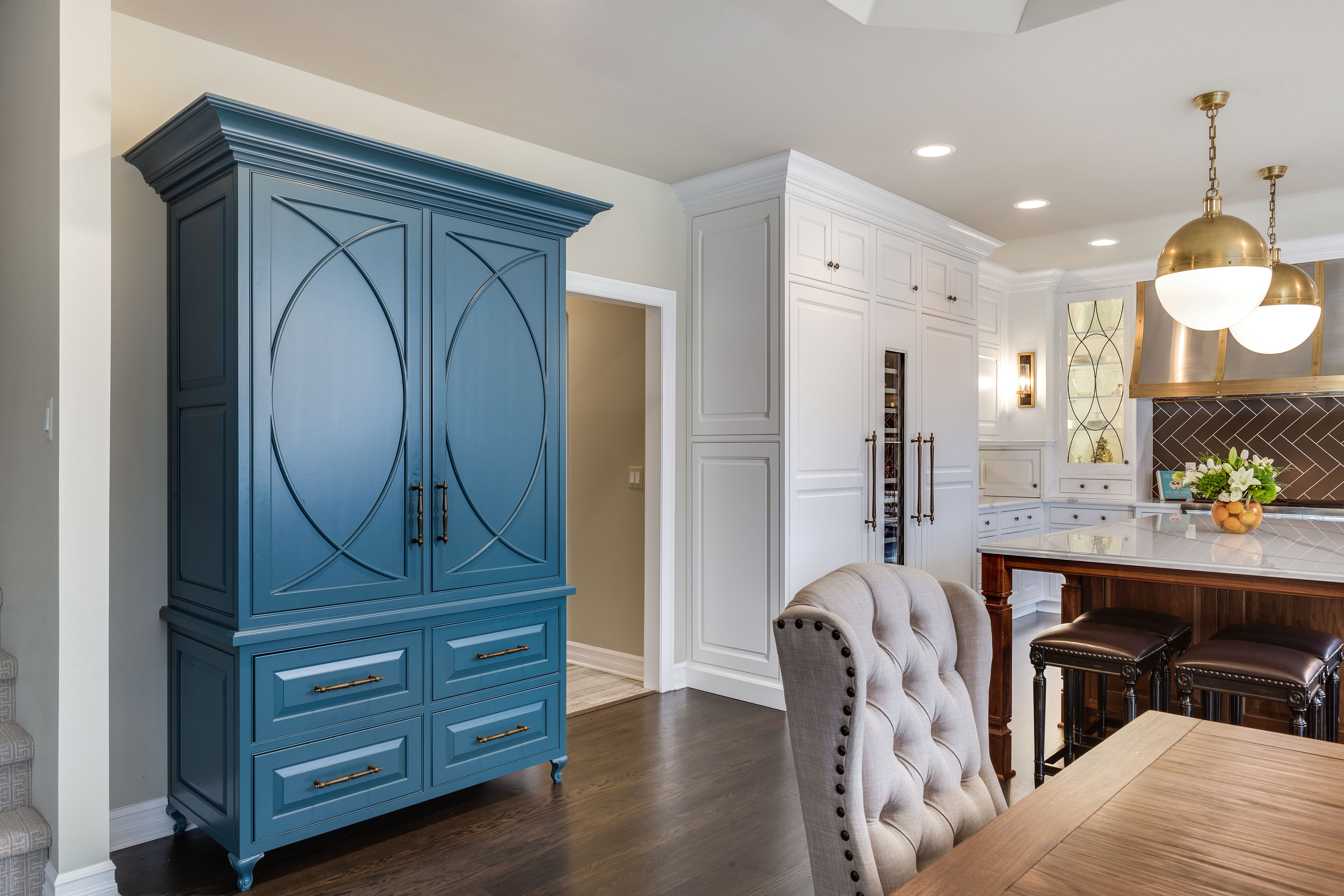 Mouser Cabinetry 
If you're going for high impact but still prefer a neutral cabinet, add in texture with tile.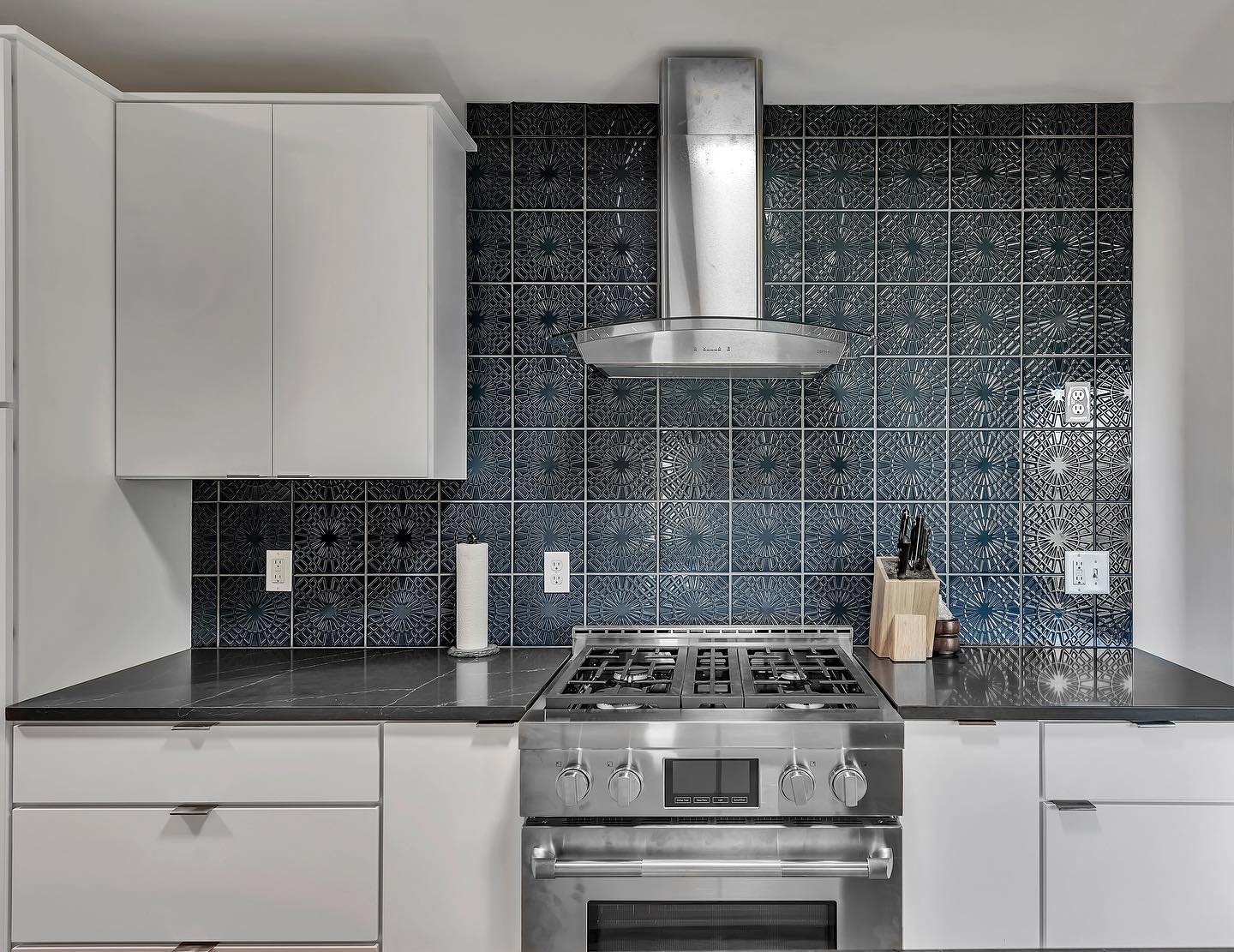 It Was Me Interiors designed with Yorktowne Cabinetry 
Painting everything a dark, blue-ish black is definitely a bold move, but somehow this space is more inviting than intimidating. Brass hardware, beautifully book-matched quartz countertops and high ceilings are a must to pull off this gorgeous look.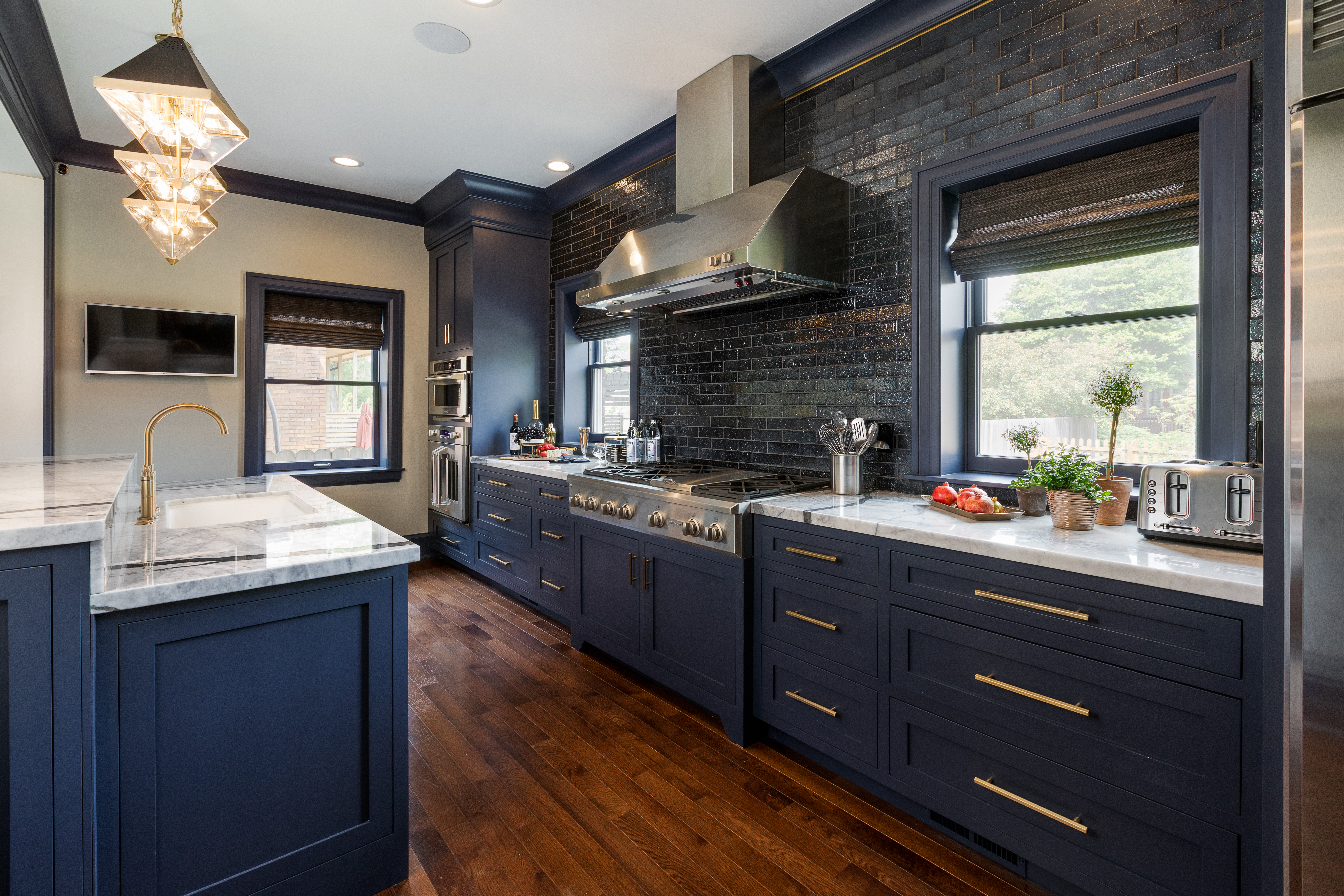 Anahi Hollis Design with Mouser Cabinetry 
This master bath packs a delicious mash-up of materials, textures and colors.  Talk about making the most out of a small space!
Yorktowne Cabinetry 
Another master bathroom dressed in the hue maritime brings a sophicated take to a natuical look.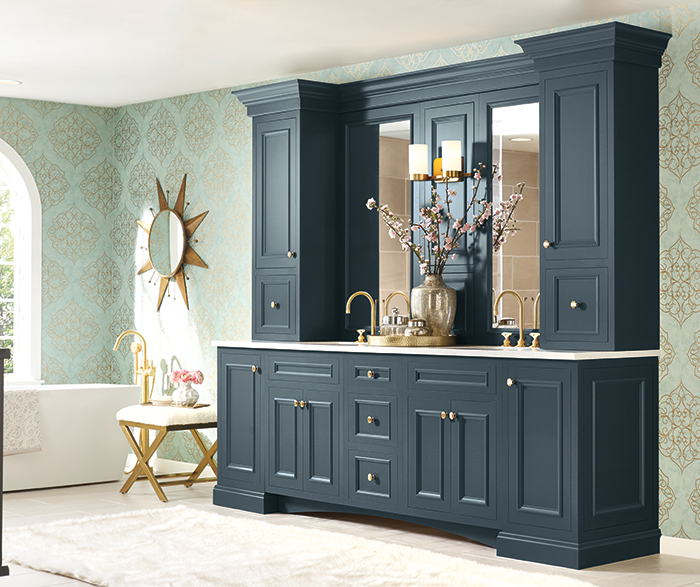 Diamond Vibe Cabinetry 
Last but certainly not least is this sleek electric blue bar.  Carrying the bright blue into the shiplap back of the bar penninsula creates a punch in both design and style.  We love the vibrant blue paired with the brass ardware and maple slab door.  Bottoms up!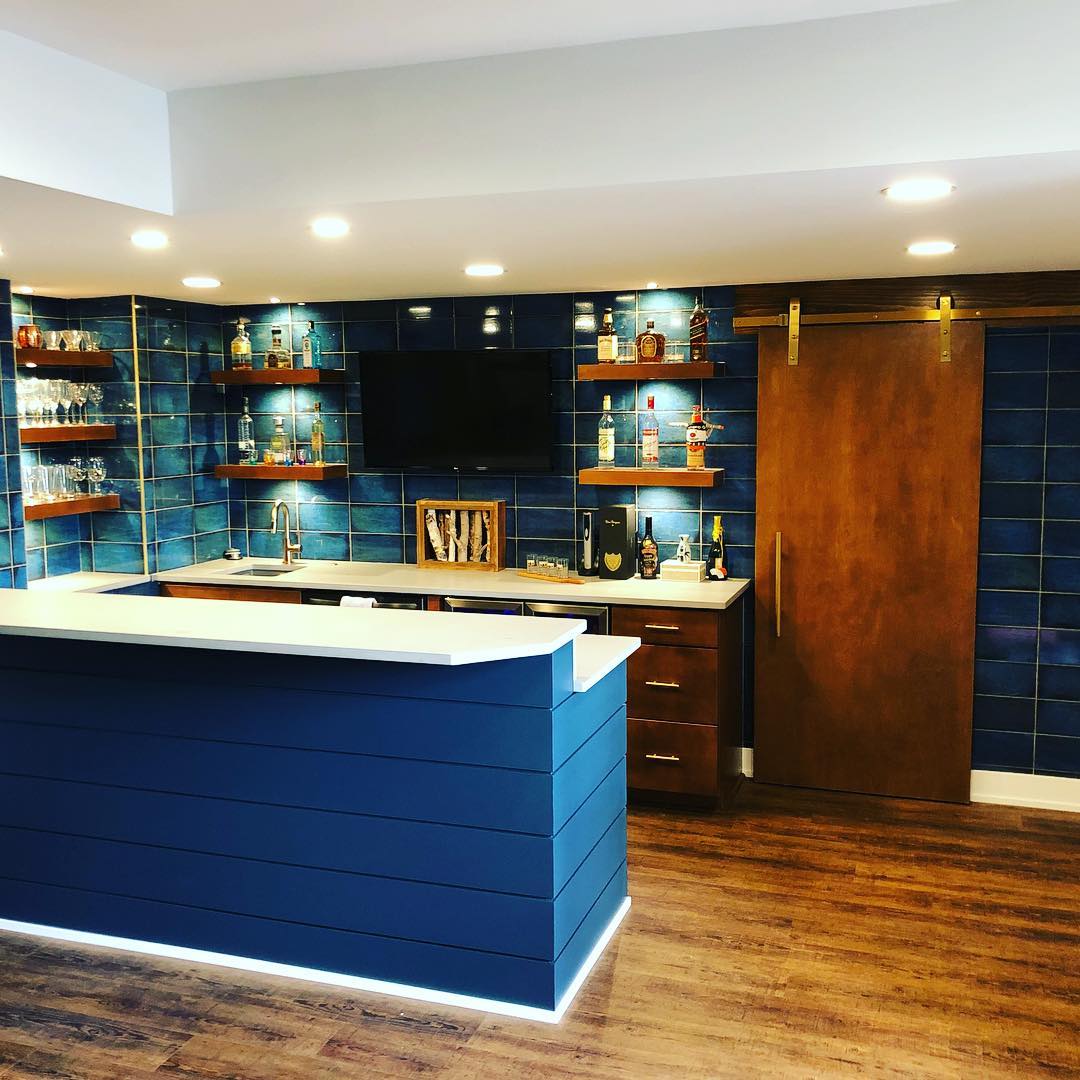 RYLN Homes & Remodeling designed with Aristokraft Cabinetry 
Despite all the blue going around we're anything but blue about designing your new space in this luxurious hue! Ready when you are!
< Back to Posts