10 Must Have Details for your Luxury Dream Kitchen
Imagine your luxury dream kitchen… what do you see?
If there's one room that's prime for a splurge it's the kitchen. Adding design elements that turn your kitchen into a hub of luxury yields a daily pay-off because it is the most used living space in the home. Equally important, when it's time to sell, kitchen improvements generally earn the biggest returns. Here's a guide to some of the most desirable details we add to some of our luxury kitchens. Which would you include in your family's high-end haven?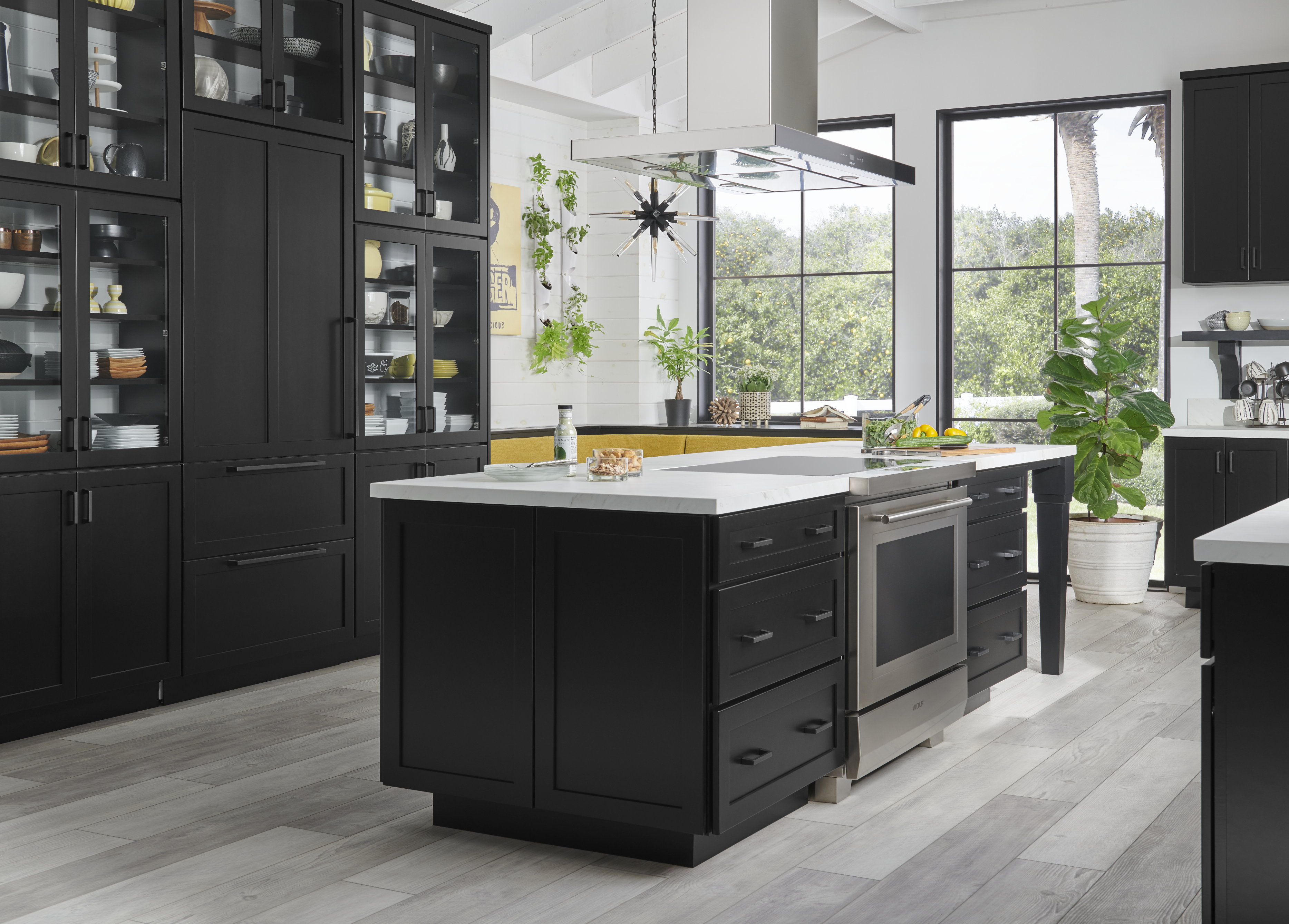 1. The Pot Filler
If you enjoy cooking, a pot filler is a must-have convenience. A pot filler faucet is a swing-out faucet on a long, jointed arm, generally mounted over or near the stove. No matter your culinary skills, a pot filler faucet can help you become more efficient and creative in your kitchen, especially if you like to cook soup and pasta often. This useful and convenient feature is a relatively easy upgrade and adds an unassuming yet attractive touch of class to any kitchen design.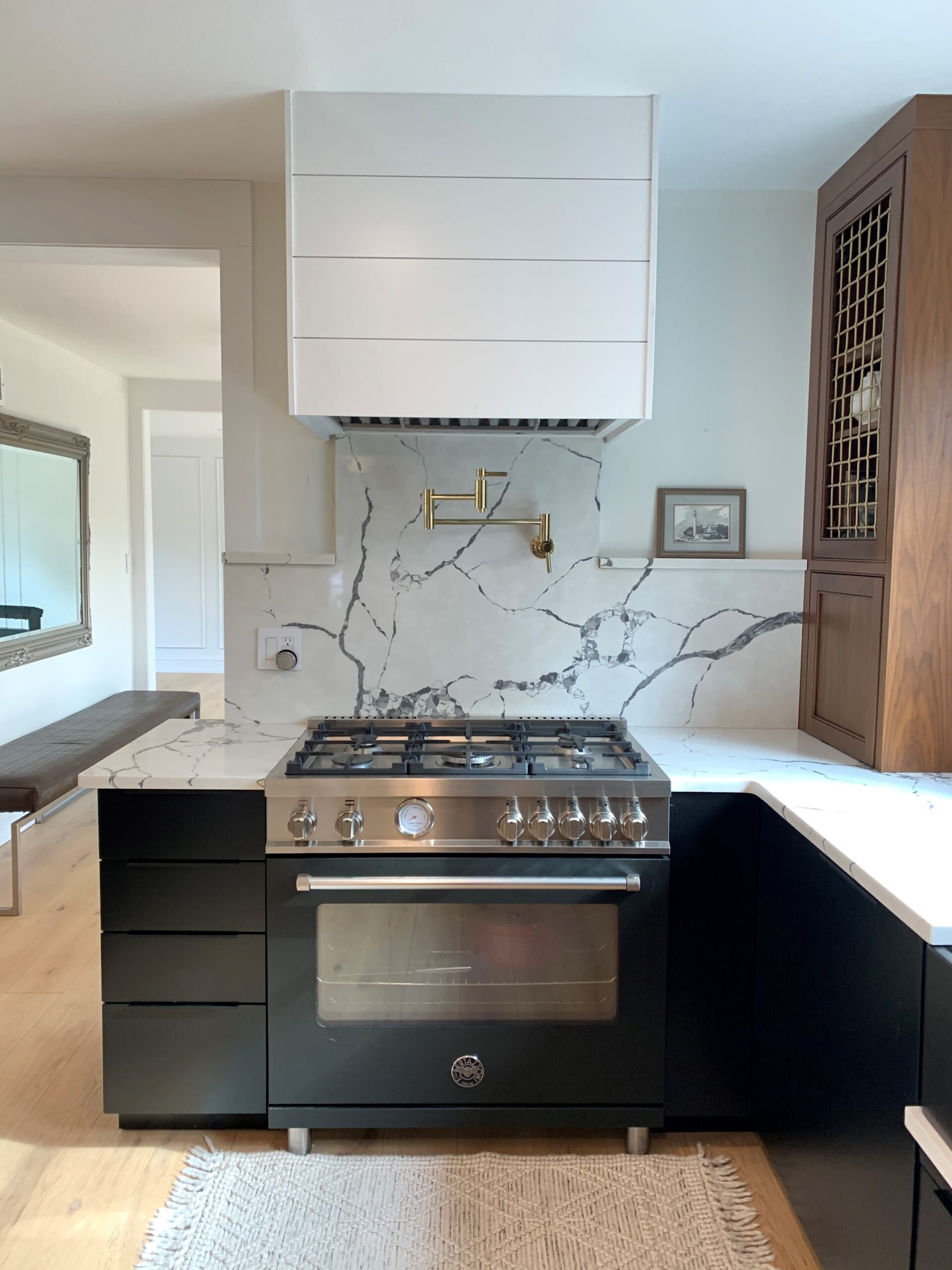 2.Well-Lit Cabinetry
Outfitting your new kitchen with layers of light is a must have in most luxury kitchens. Recessed ceiling fixtures can shine down on work surfaces or direct light toward a wall or stove area while pendant and task lighting make great features over an island or sink. Don't forget under-cabinet lights for proper task lighting on every countertop. The sky is the limit when it comes to integrating lighting into your new kitchen and it's a step you won't want to miss out on.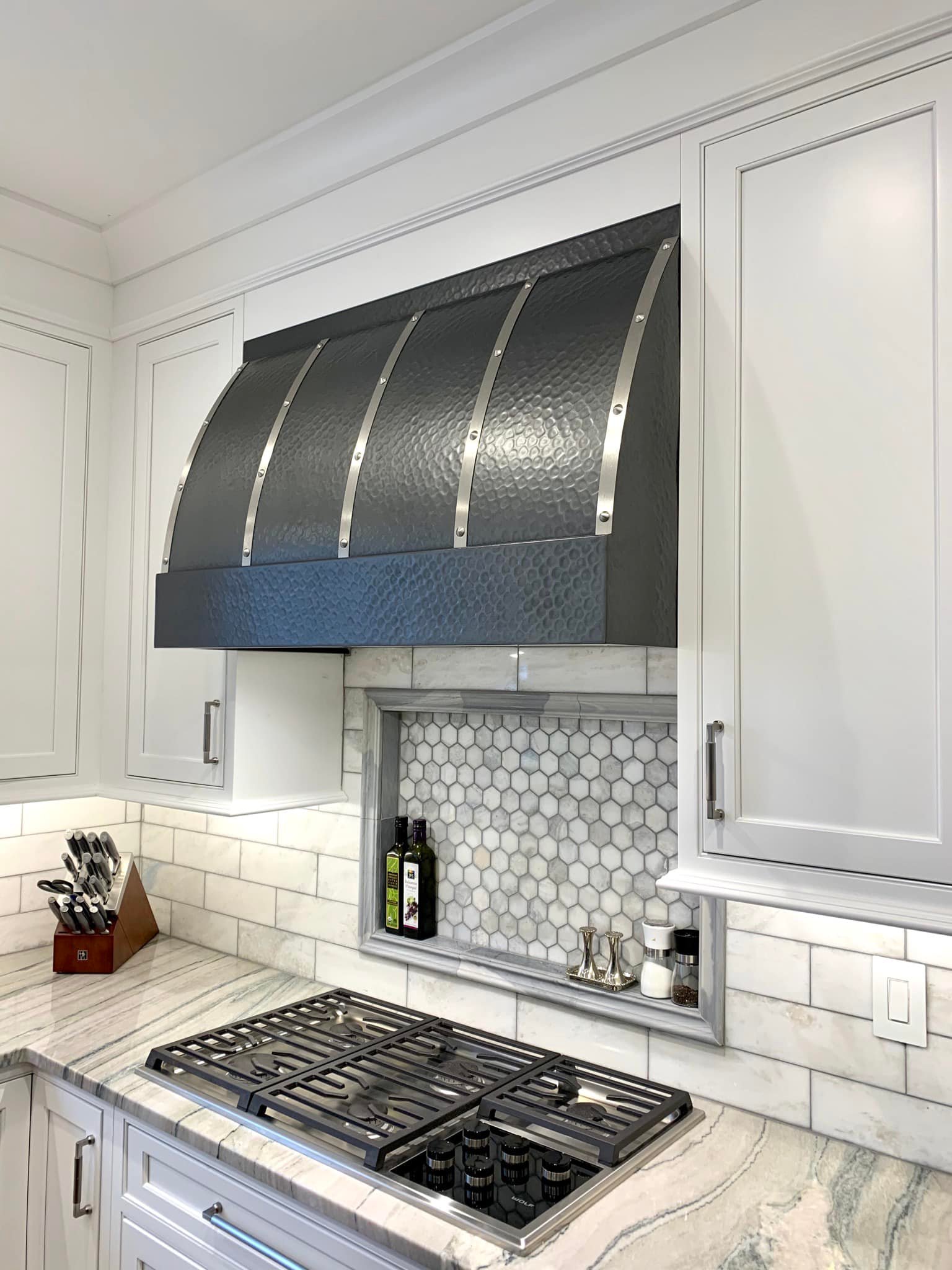 3. Built-In Refrigerator
If you love the look of a continuous run of cabinetry, consider a built-in refrigerator and freezer. Concealing your refrigerator and freezer is a trend that is becoming more and more popular as more manufacturers begin to offer panel ready appliances. If plain ole cabinetry panels don't excite you, don't shy away from taking them one step further by adding custom mullions or even leaded glass doors, it can truly enhance your kitchen's overall aesthetic.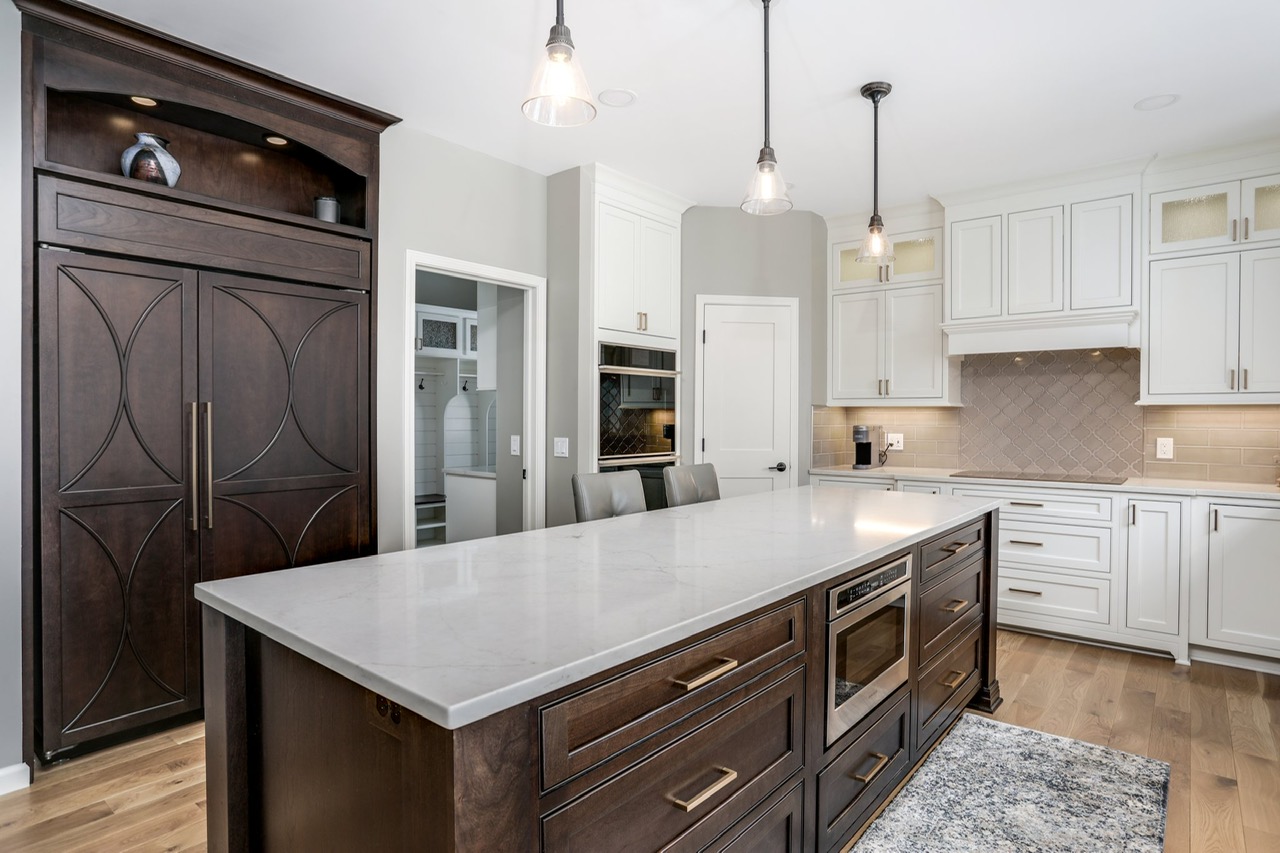 4.Beverage Station
Take luxury to the next level by incorporating a beverage station into your new high-end kitchen. Transform a kitchen alcove into a home coffee station for a bright start to your mornings by including your espresso machine, storage for mugs and all the add-ons. Use nearby drawers or shelves to house coffee beans, sugar, spoons and other essentials. If you find you would have more use for a home bar, incorporate a secondary smaller sink in this area in addition to a mini beverage or wine refrigerator. You'll never regret a dedicated space for your favorite beverages.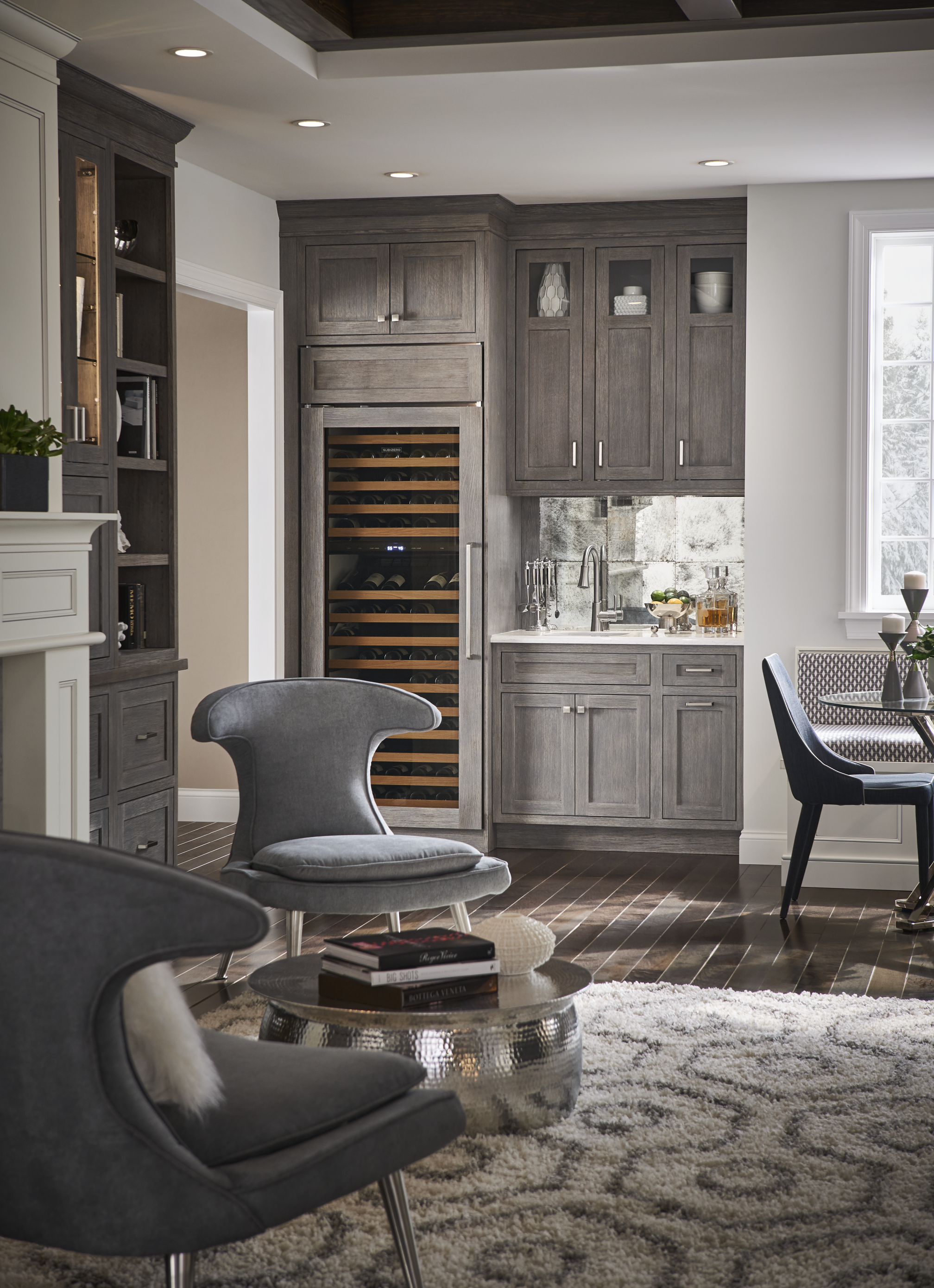 5.Crown Molding
Crown moldings add a touch of design refinement to any kitchen and adds a finishing touch when added to the top of your cabinetry. From traditional to transitional, there are a multitude of options to give more detail to your molding, including our favorite look of late, the stacked crown.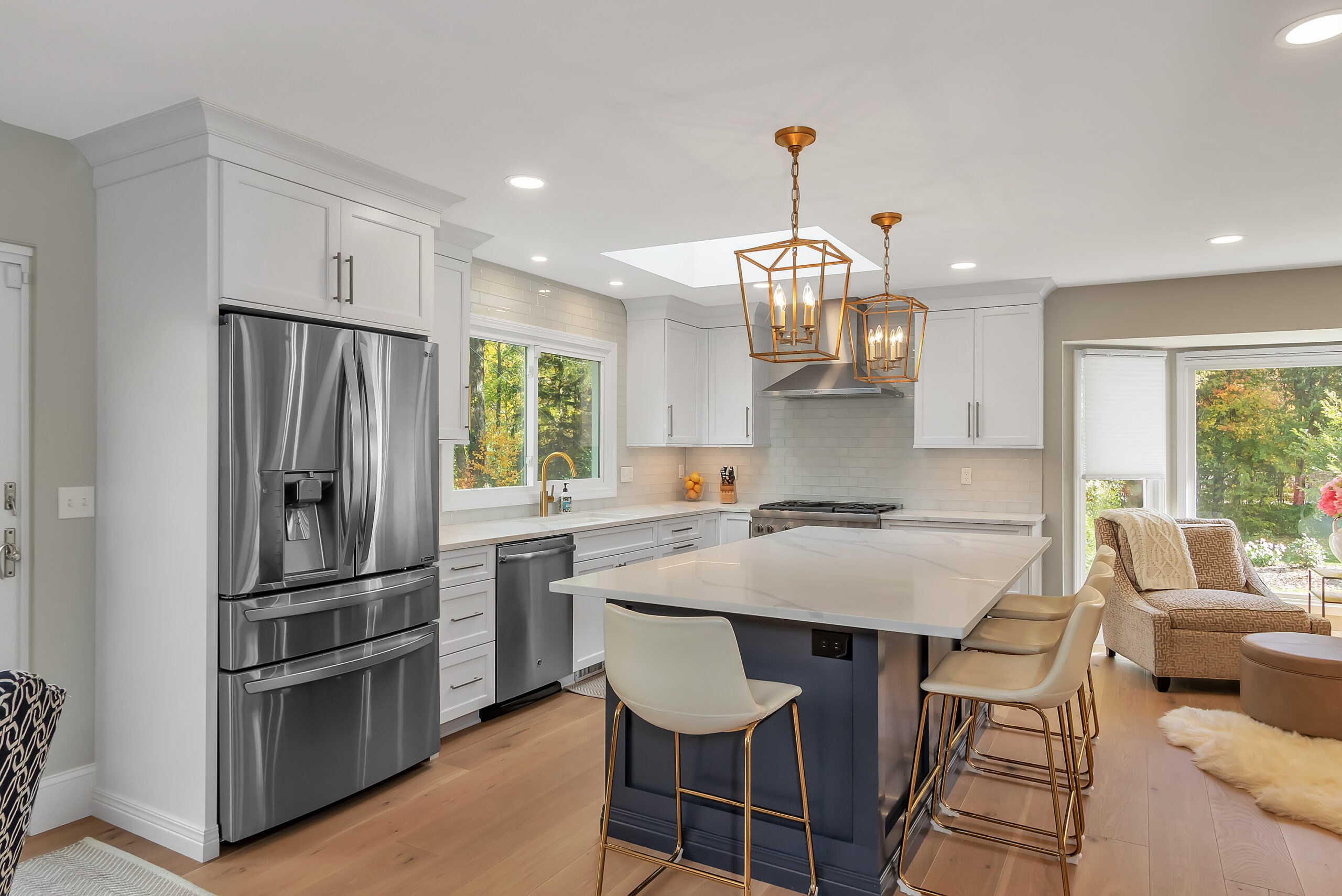 6. Glass Doors
Cabinet fronts set the tone for the entire kitchen design. Replacing the typical solid panel fronts with inset glass panes can add a dazzling touch to the overall décor of the room. With options including transparent, frosted, and mercury glass there are many ways to incorporate glass cabinetry into the personal style of your kitchen. Glass cabinetry can be further enhanced by incorporating accent lighting on the cabinetry doors or under the cabinets. These additional elements can help your kitchen seem more open and inviting.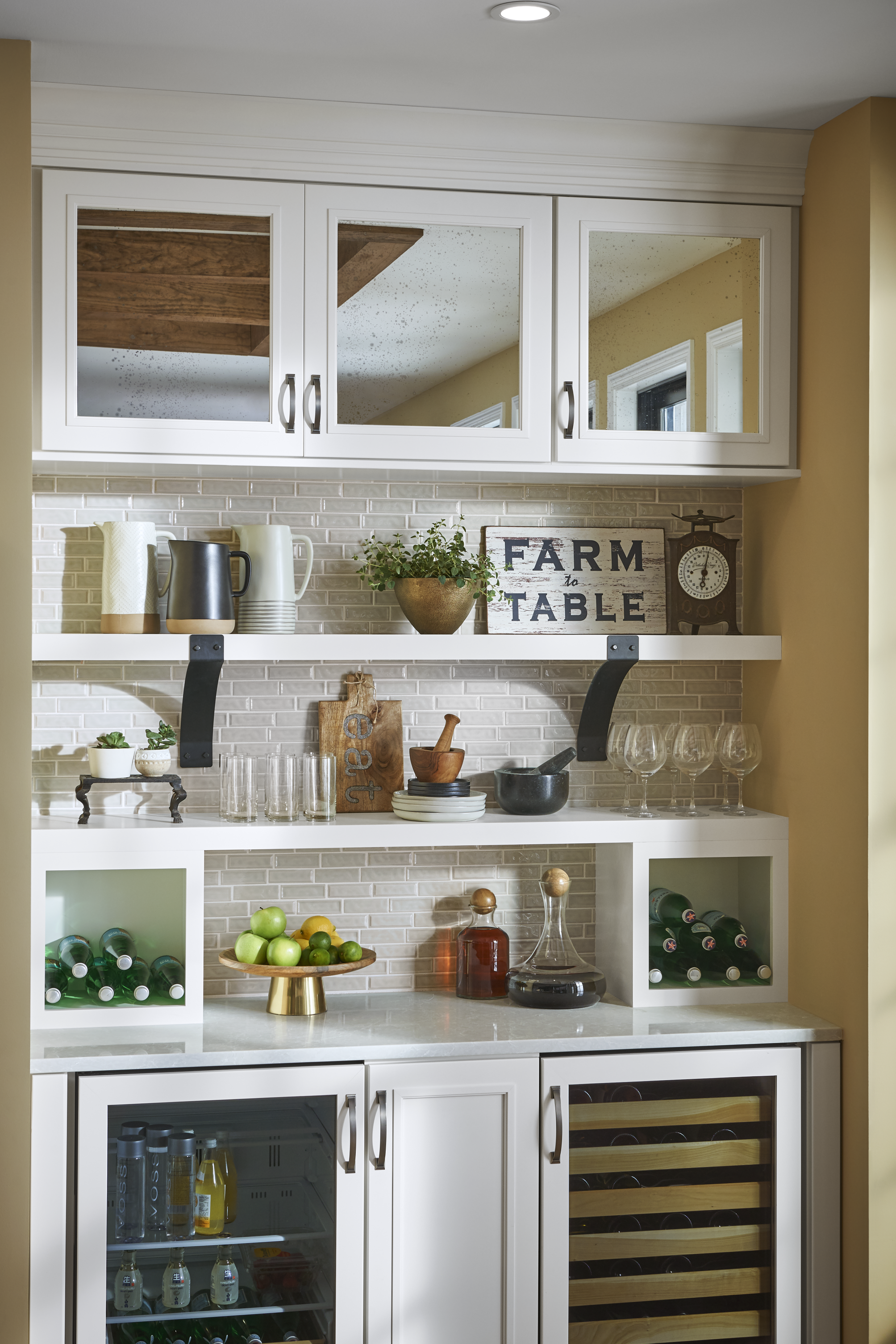 7. Decorative End Panels
Give your cabinets a furniture-style look by opting for matching end panels on the end of a flush skin. While this is typically very common in traditional type spaces, we're seeing this look more and more in transitional spaces.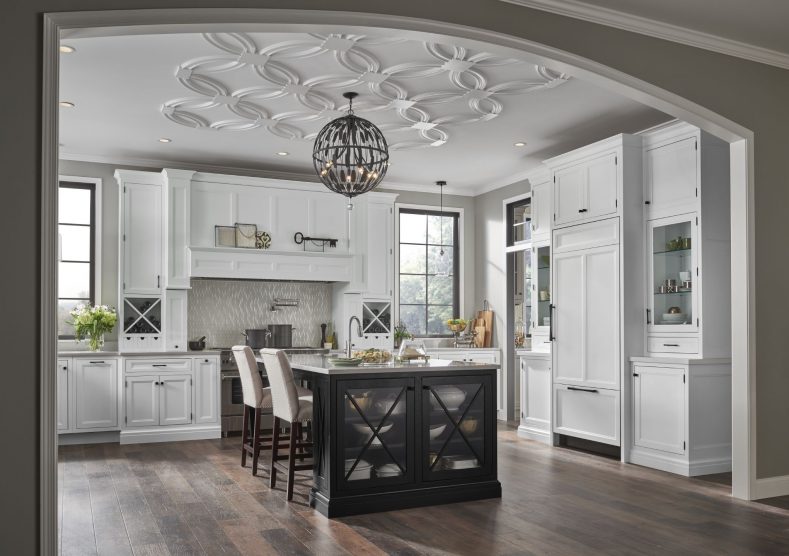 8. Galley Sink
The Galley Workstation was conceived by an award-winning kitchen designer whose passion was to solve age-old workflow problems in the kitchen. This innovative kitchen workstation is designed to provide a modern and efficient space to prep and serve meals that are sure to impress your friends and family. Designed as a central workstation hub to consolidate and elevate food preparation and cleanup, this addition to a kitchen adds another level of luxury. Incredibly versatile in sizes, color choices and functionality, we've never met a client who can't find their perfect combination of workstation. What's even better about these workstations? They're superbly engineered and handcrafted in the USA.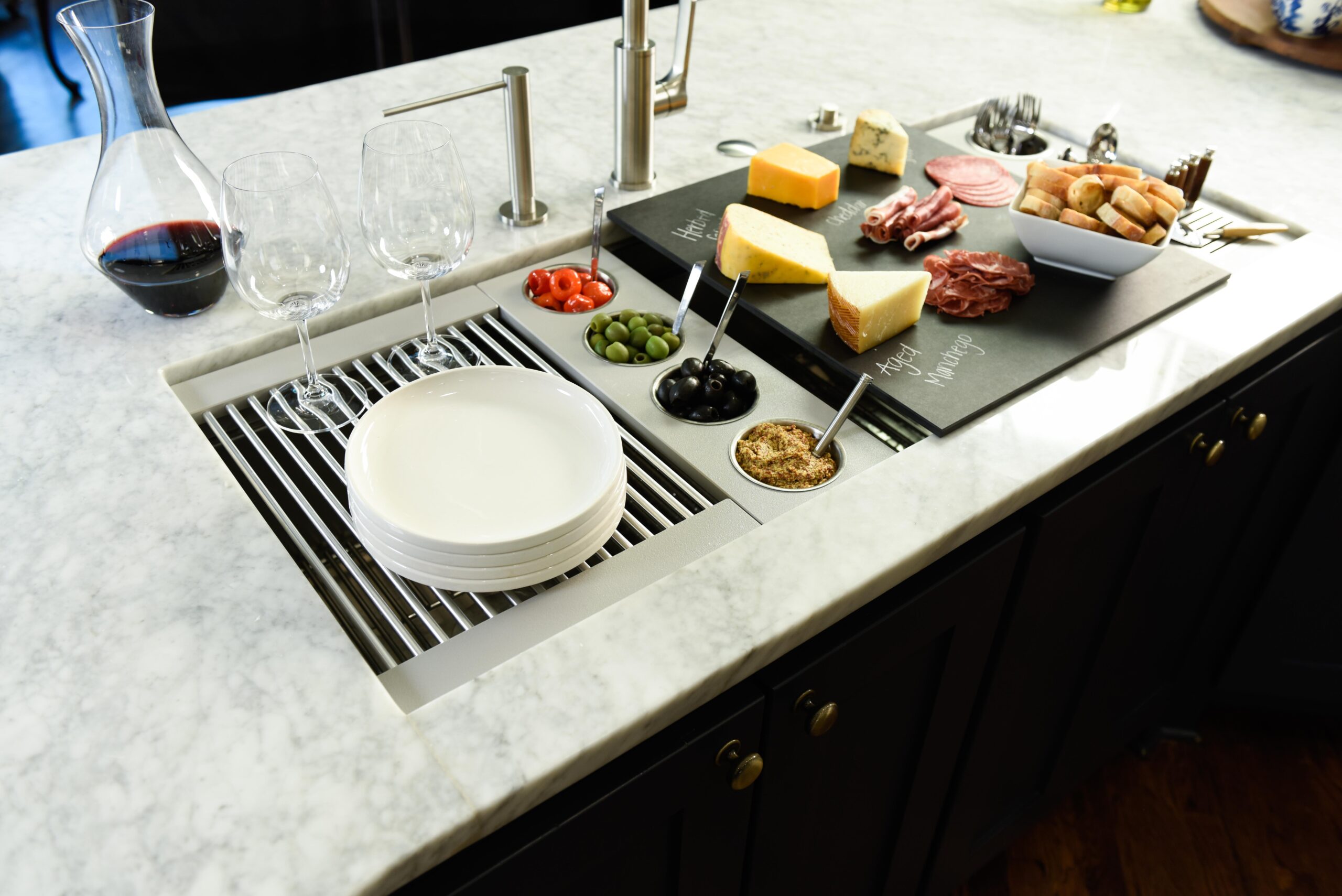 9. Oversized Island
For those with ample kitchen space, an oversized kitchen island can be a welcomed addition, providing additional countertop area for food prep, ample storage, and plentiful seating. If you choose to go large with your island, you can also integrate other functional features. Additions such as an extra sink, cooktop, integrated cutting board, or marble pastry prep surface can allow you to interact with your family when performing daily food prep and cooking tasks. Oversized islands are also a great place to high unsightly small appliances like microwaves, warming drawers, or beverage refrigerators.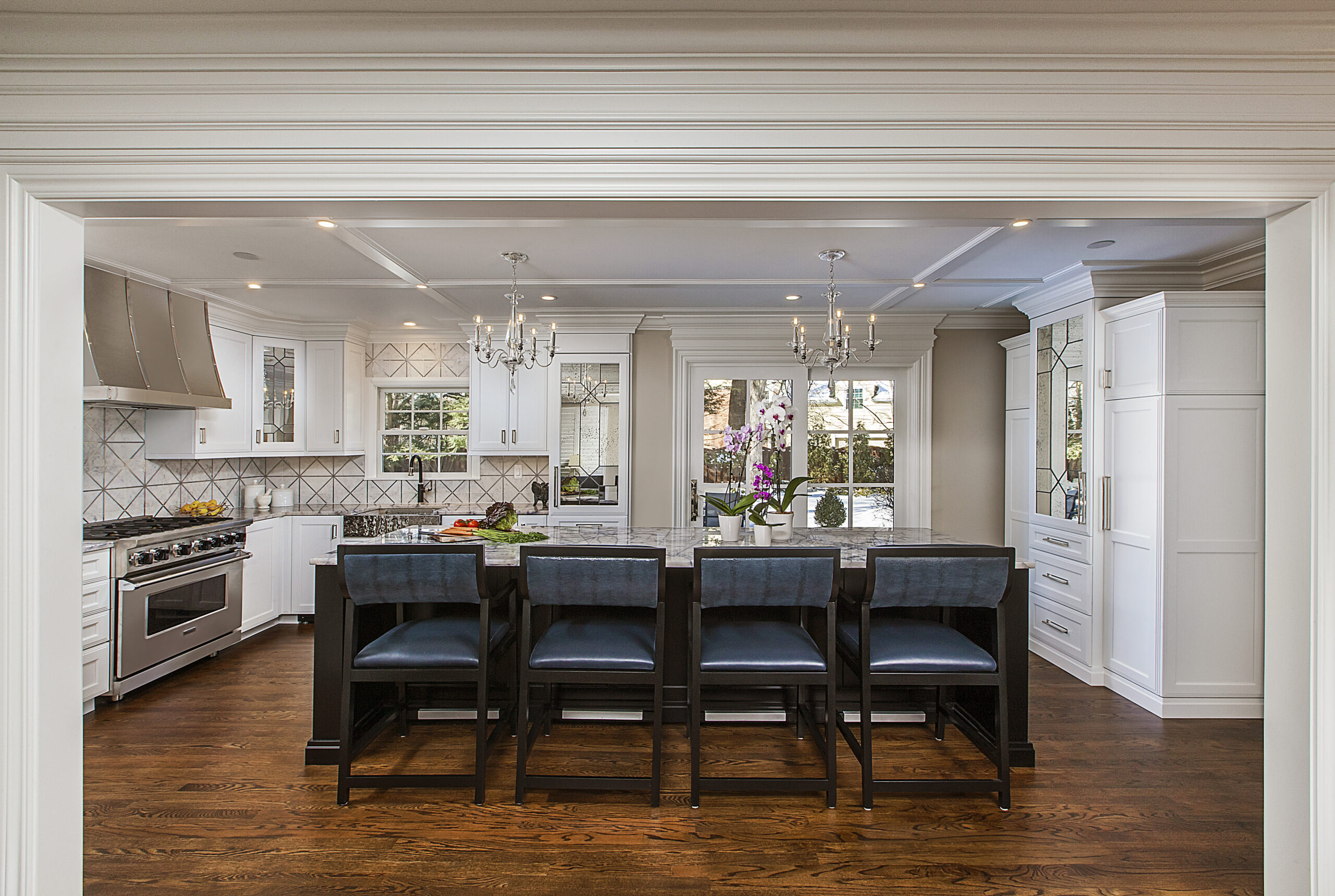 10. Statement Stone
Kitchen countertops are a vital feature of a high-end kitchen design. Apart from setting the tone for the rest of the space, they enhance the maximum value of a home. As such, careful selection of countertops both in material, style, and color is extremely essential. Whether you opt for an engineered stone like quartz or porcelain or a natural stone like quartzite and marble, don't be afraid to go bold with veining or pattern. A recent trend we're seeing more and more of is running the countertop up the backsplash, which creates a magnificent accent.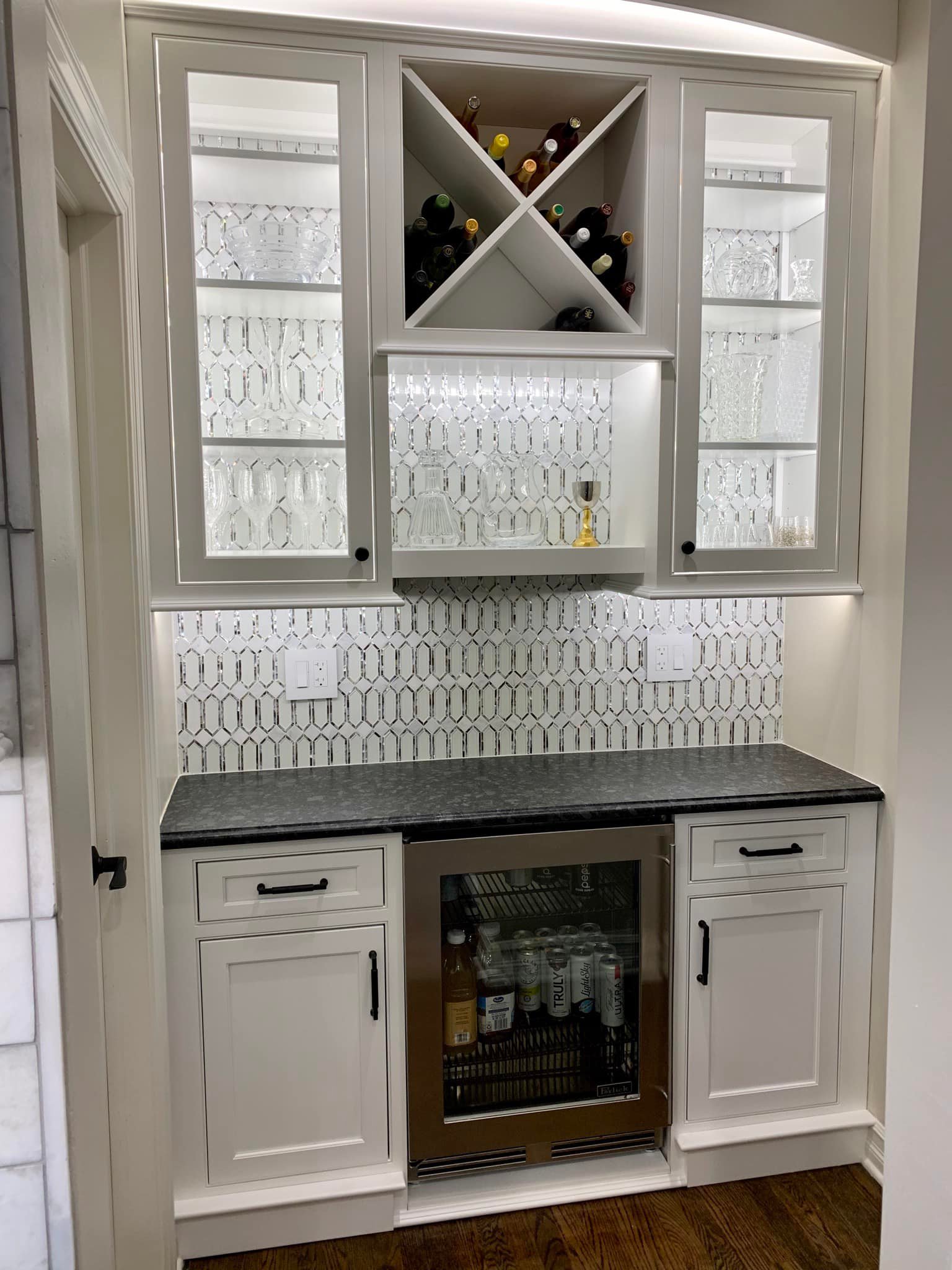 Whether you're building new, remodeling an existing kitchen, or refreshing a few elements, you're not alone. Everyone wants the heart of their home to look its absolute best. Ready to get started? Contact our dream team today!
< Back to Posts