A Novice's Guide to Bathroom Renovations: The Good, the Better, and the Absolute Sublime…..
So you've decided that your bathroom is in need of a renovation and are ready to move from a lax lavatory space to a sumptuous spa sanctuary.   What's next?
We know that embarking on this transformational journey can seem daunting, but it can also be exciting… imagine that!?  With a few pointers and insights, you can make educated and savvy product selections that will ensure your new dream space will provide beauty (Coco Chanel would be happy to powder her nose at your new vanity!), functionality, and luxurious comfort.  Let's begin by defining a few popular bathroom terms:
Master Bathroom: The name "Master Bathroom" may conjure visions of "Downton Abbey" but it simply refers to the bathroom that is accessed through the largest bedroom in a home.  Master baths have become spa like retreats for work weary Americans who spend the majority of their waking hours in work spaces outside the home and/or chasing charming (and exhausting) children.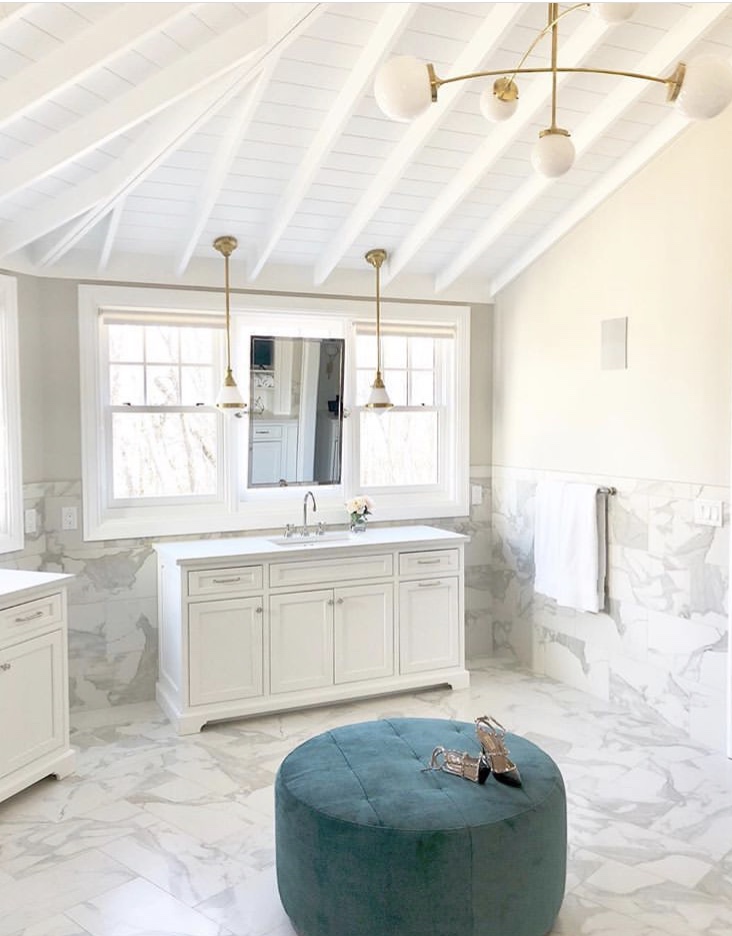 Leighanne LaMarre Interiors with Mouser Cabinetry
Jack & Jill Bathroom: Although this bathroom sounds like it is straight out of a nursery rhyme, it is actually a conduit of functionality between two bedrooms.  Jack & Jill Baths have two sinks – one for each bedroom – and a commonly utilized toilet, tub, and shower.  It is often used for siblings.  Think Brady Bunch reruns – Marcia, Marcia, Marcia!!!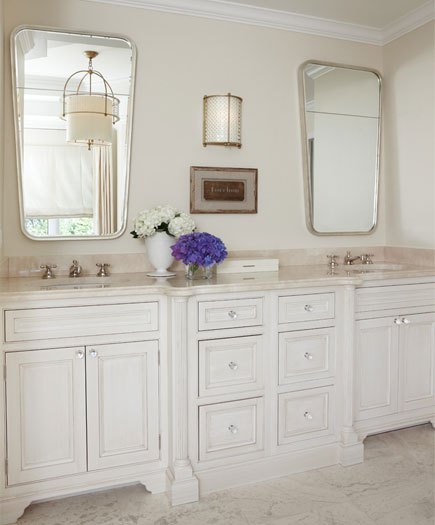 Mouser Cabinetry
Half Bath / Powder Room: Powder rooms are often small but can definitely pack the wow factor.   They contain a sink and toilet, minimally, but can also contain much more – think vintage seated vanity (this is where Coco would reapply her #5).  This is a great area to display your personality with whimsical design and sumptuous accessories.  This space is designed for one and has a true sense of intimacy – give yourself permission to show your style!  Often located off of the home entrances, these spaces contain only a sink and toilet and are mainly intended for guest use.
 Leighanne LaMarre Interiors with Mouser Cabinetry
Now that you have the basics on which space is which, let's talk shop!  Here are a few thoughts and suggestions from our Dream Team:
"Time, time, time, is on your side" – if you prepare. It is important to remember that a renovation takes time and has many steps.  Beginning with dreaming and planning your perfect bath and ending with the addition of perfect hand towels and sublimely scented soap, your project can take several months.  Working with a qualified Bath Designer will ensure that your project progresses swiftly, smoothly, and sequentially to minimize disarray and maximize satisfaction during the process.
"Location, Location, Location"! As you prepare for your renovation plan for placement of your appliances, cabinetry, and storage so that it reflects your current process.  Many of us have a practiced morning routine that is dependent on having the environment enhance your ability to achieve seamless grooming.
"You can get some satisfaction" – and return on your investment by following the following 4 recommendations:
Update worn hardware, flooring, appliances, & cabinetry
Modernize fixtures
Create functional space
Most importantly, consult a professional to help in achieving bath nirvana
 Mouser Cabinetry
E.W. Kitchens is always happy to deliver beautiful to your bathroom!  Begin with our moodboard to assist you Define Your Style  and let E.W. Kitchens handle the rest.
< Back to Posts